A federal court in the United States has ordered HBI International, the maker of RAW Organic Hemp rolling papers, to cease their production due to unfair and deceptive business practices. The lawsuit was filed by Republic Brands, a competitor distributor of rolling papers, who accused HBI of making false claims about their product, such as the existence of the "RAW Foundation" charity and that its papers were made by artisanal craftsman in Alcoy, Spain.
More Details About the RAW Rolling Papers Lawsuit Exposing RAW Foundation as a Fake Charity
In two separate rulings in December 2022 and January 2023, the United States District Court for the Northern District of Illinois concluded that no RAW Foundation even existed and that HBI "makes no rolling paper in Alcoy, Spain whatsoever". The company was also prohibited from stating, among other claims, that its rolling papers were "unrefined" and the "world's only organic" rolling papers, and after March 2, 2023, HBI may not promote, sell, distribute, ship, or deliver products under its other brands (e.g. Elements, DLX, Skunk, Pay-Pay, Juicy Jays) sold in packaging featuring an Alcoy stamp.
Negative RAW Organic Hemp Rolling Papers Reviews Surged After the Lawsuit Went Viral
The amount of exposure happening has the Raw Rolling Papers lawsuit trending on social media platforms such as Twitter. The news of the impending injunction against HBI has caused a stir among RAW's customers. Many cannabis users are questioning what the future holds for their favorite rolling paper, and many have taken to the internet to express their outrage. This has led to a surge in reviews of RAW Organic Hemp rolling papers, with many customers expressing their dismay about the lawsuit.
Did RAW Rolling Papers' Website Shut Down Due to the Lawsuit?
At the time of writing, HBI International has yet to make a statement about the pending injunction. However, the company seems to have put their website in maintenance mode, which could be a sign that they are preparing to cease production of the RAW Organic Hemp rolling papers in their current packaging.
If you try going to their website "rawthentic.com" you'll currently see a message saying, "We're updating our website and packaging to give you the most rawesome rolling experience ever. Be sure to check back soon". It's not clear how long it will be before the website is back up, but at the moment it seems RAW's website is technically shut down.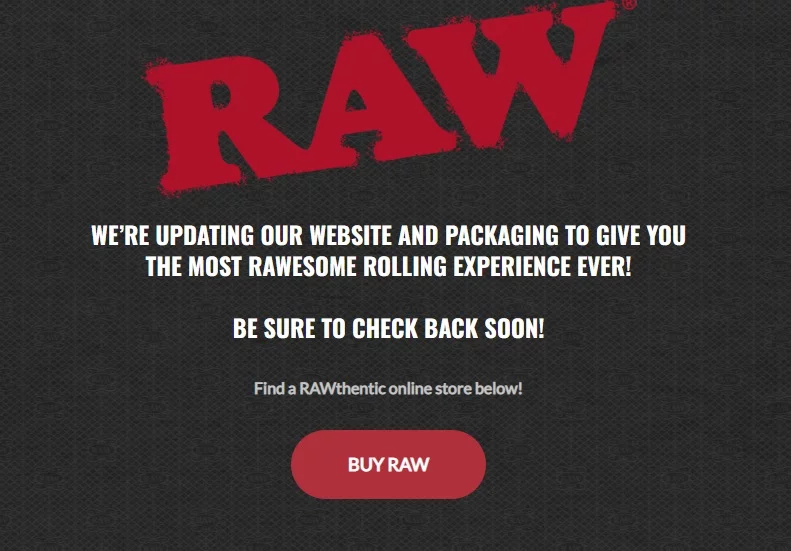 Despite the legal issues, many cannabis users remain devoted to the RAW brand, claiming that no other rolling paper can match its quality or flavor. Whether or not the pending injunction goes through, there is no denying that RAW has had a significant impact on the cannabis industry, and its legacy will live on in the hearts and minds of its devoted followers.
The lawsuit against RAW rolling papers is a prime example of how companies must be held accountable for their deceptive business practices. The court's ruling has sent a strong message to other businesses that they must be honest and transparent with their customers. Who could have guessed that they would ever find out that "RAW Foundation" is fake charity orginization, at least according to the lawsuit.