Starfield, the latest game from Bethesda Game Studios, has been both praised and criticized for its open-world exploration, storytelling, and visuals. One aspect of the game that has caught the attention of many players and critics is its physics engine, which allows for realistic interactions with objects and environments.
How a Room Full of Potatoes Shows Off Starfield Physics Engine
One example of this is a video that was posted on Reddit by user Moozipan, who decided to conduct an experiment with potatoes. The video shows Moozipan stuffing a room in their spaceship with 20,000 potatoes, then opening the hatch and watching the spuds spill out onto the ground. The video also shows how the potatoes move and bounce as they collide with each other and the hatch, which tries to close itself.
The video has received over 16,000 upvotes and thousands comments on Reddit, as well as thousands of views and shares on other platforms such as YouTube, Twitter, and Facebook. Many people have commented on how impressive the physics are in Starfield, and how they add to the immersion and realism of the game. Others were not impressed, saying that there are too many flaws in the game to be happy about the physics.
Still yet, some have even hailed the video as one of the most powerful next-generation gaming moments since the PS5 and Xbox Series X were released. Others have compared the video to the famous Skyrim cheese wheel experiment, where players filled a room with cheese wheels and watched them roll down a hill.
Time To Let Something Go
by u/Moozipan in Starfield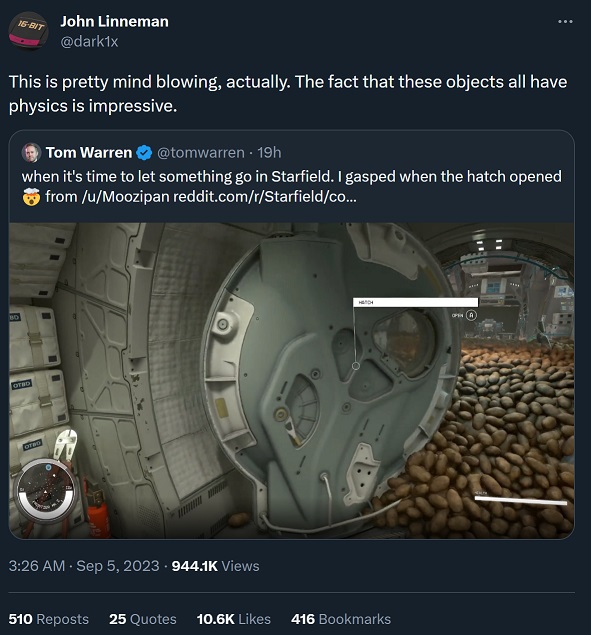 Seeing how natural and realistic the physics look in Starfield, makes me realize how outdated and far behind sports games like NBA 2K23 are, where things like collisions are based on preset animations, rather than an actual physics engine. The room full of potatoes test in Starfield might be the closest to real life physics a game has come in the "next-gen" era that has been largely disappointing.