This morning sad breaking news out of White Plains NY Hospital reported that rapper DMX was brain dead after overdosing on cocaine and suffering a heart attack. He was reported to be in a vegetative state in ICU with little chance of surviving. People thought a miracle was in the process of happening when it was reported DMX has been taken off life support and is breathing on his own. The news was revealed by his lawyer.
However, in a sad update DMX's lawyer said he was given wrong information. DMX is still on life support, and his family has said again the prognosis is not good. First take a look at the original video the lawyer released.
Press the unmute button at the bottom right of the video if you don't hear any sound.
Now this is the new update, which again was confirmed by the same lawyer.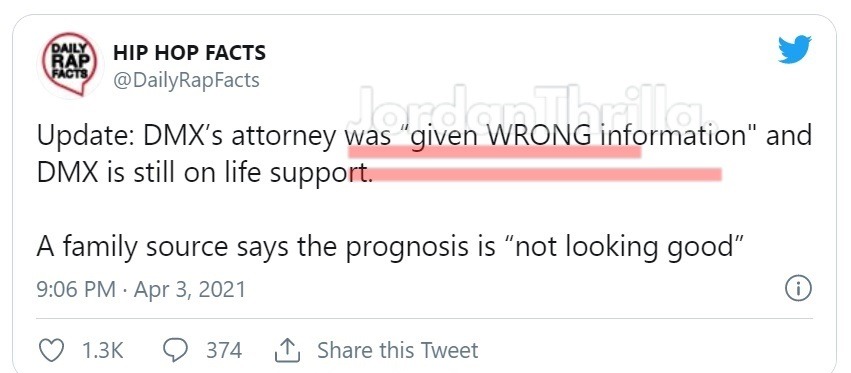 You have wonder who lied to DMX's lawyer and assured him DMX was taken off life support earlier. That kind of information shouldn't be given if it's inaccurate. People were celebrating when they thought he would recover, but it looks like the people who had "RIP DMX" trending were closer to the truth after all.
It's looking more and more like DMX is just being kept alive so his family can spend time with him before they pull the plug, but hopefully that isn't the case. He isn't dead yet, so a miracle can still happen.
Pull through DMX, the world is praying for you.
Author: JordanThrilla Staff