Rapper Ja Rule has stirred up controversy and attention with his latest performance at the BMI R&B/Hip Hop Awards in Miami on Wednesday night. The "Always On Time" hitmaker delivered a highly theatrical display, emphatically rapping while bound to a cross, simulating the crucifixion of Jesus Christ. Somehow someway this managed to stir up his never ending beef with 50 cent.
How 50 Cent Clowned Ja Rule Getting Nailed to the Cross Like Jesus on Stage
The performance, which was captured on video and shared online, quickly went viral and drew mixed reactions from fans and critics. Some praised Ja Rule for his artistic expression and emotional intensity, while others slammed him for being blasphemous and disrespectful to Christianity.
One of the most vocal critics of Ja Rule's performance was his longtime rival 50 Cent, who took to Instagram to mock and ridicule him. The "In Da Club" rapper shared a clip of Ja Rule's set and wrote in the caption: "Look at this s**t head, is he supposed to be Jesus. What the f**k you can't make this s**t up. LOL so stupid!".
Ja Rule Responds to 50 Cent with Images of Bryhana Monegain Injury
Ja Rule did not remain silent and responded to 50 Cent's diss with a counterattack. He posted several photos on his Instagram story, showing the woman that 50 Cent allegedly hit with a microphone during his concert in Los Angeles on August 30.
The woman, identified as Power 106 radio host Bryhana Monegain, suffered a cut on her forehead and had to be taken to the hospital for stitches.
Ja Rule added a message to the photos, saying: "We ain't forget. Enjoy those criminal charges and lawsuit." He also tagged 50 Cent's Instagram handle and added a laughing emoji.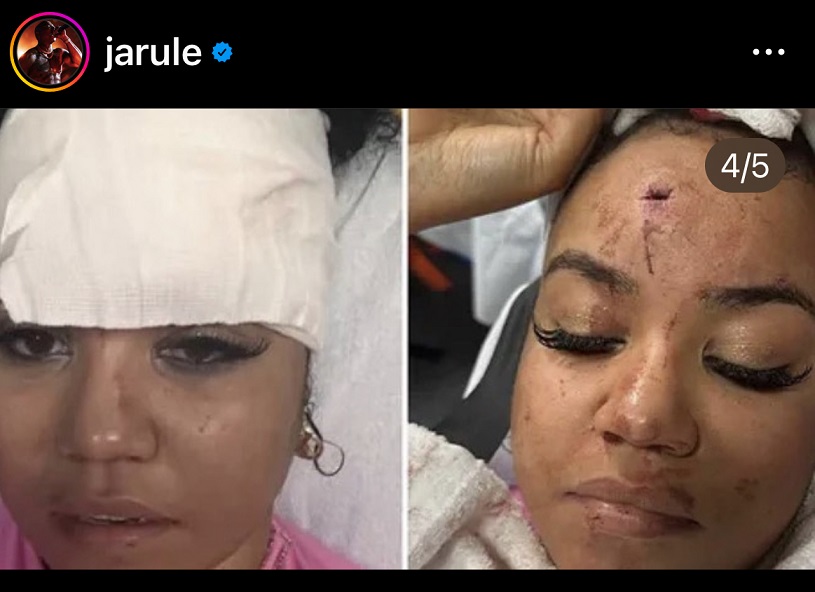 The microphone incident, which was also caught on video, reportedly occurred when 50 Cent threw a non-functioning microphone into the crowd in frustration over technical difficulties. However, Monegain allegedly filed a police report citing criminal felony battery on Wednesday night, and is seeking legal action against 50 Cent.
This is not the first time that Ja Rule and 50 Cent have clashed over their music and personal issues. The pair have been engaged in one of the longest-running feuds in hip-hop history, dating back to the late 90s when Ja Rule was allegedly robbed by one of 50 Cent's associates. Since then, they have exchanged numerous diss tracks, insults, and physical altercations over the years.