When a very rich person mysteriously passes away the first thought most people have is that there must have been some sort of foul play involved. When that person's death happens after a major business development related to their company, it raises the level of suspicion even more. Naturally many people are wondering if crypto founder Tiantian Kullander was murdered due to the timing and circumstances of his death.
Was Tiantian Kullander Murdered? Mysterious Death of Crypto Founder Tiantian Kullander Sparks Murder Conspiracy Theories Related to His Company
Recently it was reported that the 30 year old Crypto mogul Tiantian Kullander is dead after allegedly passing away in his sleep. He had no publicly known health issues, and his official cause of death has not been released yet. The strangest aspect of his mysterious death is that it happened shortly after his company received a $3 Billion valuation. Is that coincidence, or proof of foul play. On social media many people are convinced that a conspiracy theory Tiantian Kullander was murdered has merit. They believe the "died in his sleep" narrative is a cover up by the people who murdered him to make it seem like a natural death.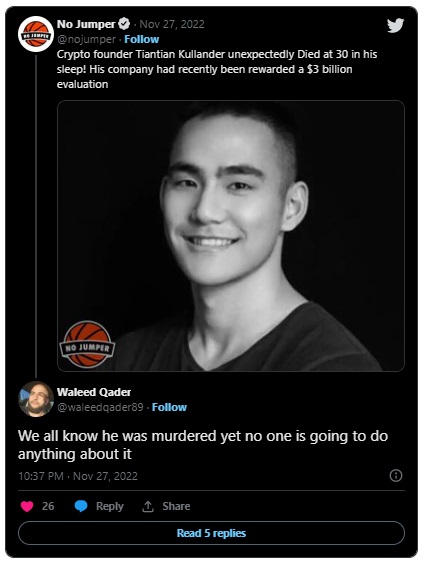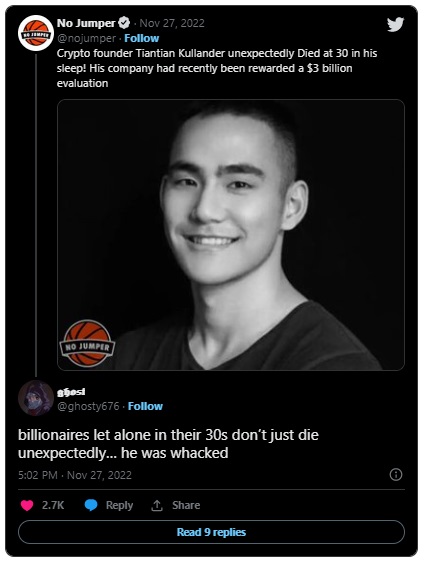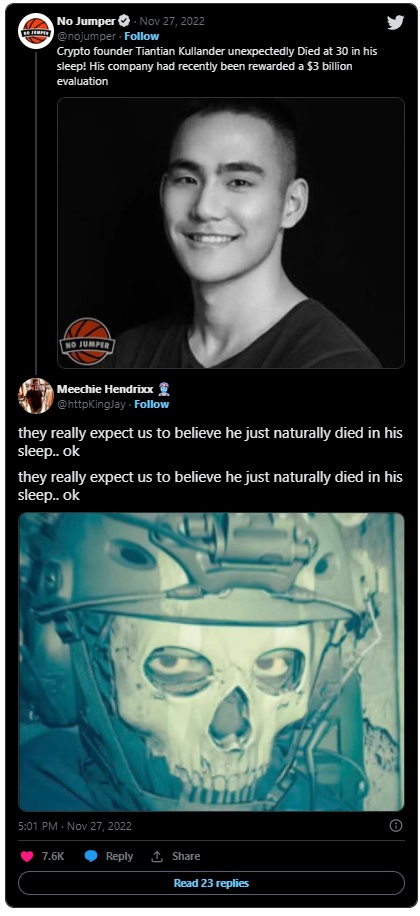 While it is possible that Tiantian Kullander really died in his sleep, it just seems too hard to believe. If that's case then he had some really bad luck for that to happen right after his company reached the pinnacle of its success.
People are eager to hear the results of Tiantian Kullander's autopsy, but whose to say that if he was murdered the perpatrators won't conceal the truth from coming to light.