When Kim Kardashian and Pete Davidson broke up recently there's no doubt there was no one happier to see the demise of the short lived relationship than her ex-husband Kanye West. The beef between Pete Davidson and Kanye West was well documented on social media through leaked text messages, and posts from their accounts. Now Kanye West is being very petty, and taking advantage of their current situation while also sending strays at Kid Cudi who he's also beefing with. Naturally Kim Kardashian is very unhappy about it all based on reports.
Kanye West's 'Pete Davidson Dead at 28' NY Times Photoshop Clowning Kid Cudi's Trash Throwing Incident Sparks Intense Kim Kardashian Reaction
Kanye West is one of the most creative music artists ever, and he's also creative when posting on social media. This was proven once again in a viral Instagram post where Kanye West wrote 'Skete Davidson Dead at 28' on a photoshopped New York Times newspaper. If you look closely at the picture Kanye West dissed Kid Cudi with a message saying 'Kid Cudi meant to play at funeral, but fearful of bottle throwers'.
Recently reports allege that Kim Kardashian reacted by demanding Kanye West take down the 'Pete Davidson dead at 28' post, but he is refusing. Take a look.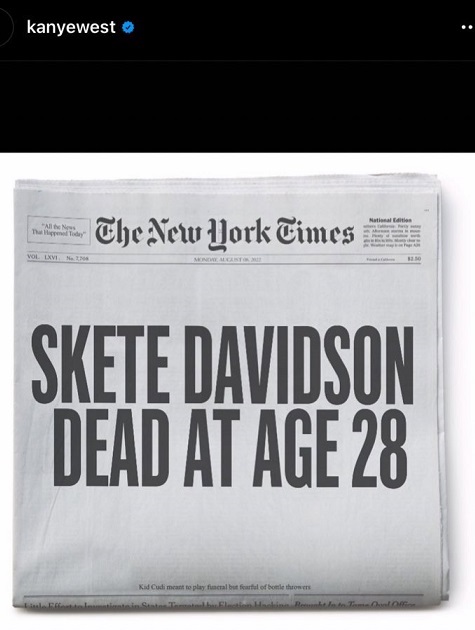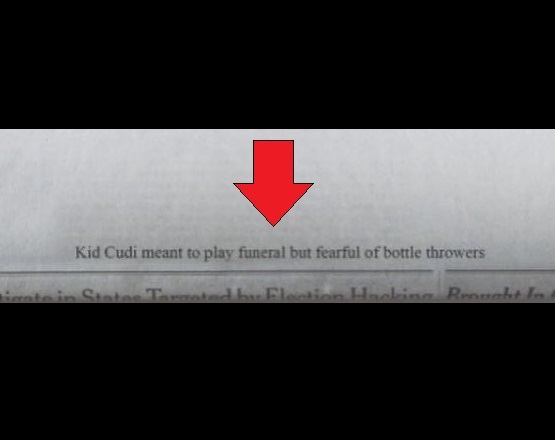 In his viral IG post Kanye West was referencing the sad footage showing the Rolling Loud Miami 2022 crowd throwing trash at Kid Cudi on stage during his set. That situation led to Kid Cudi scolding the crowd threatening to leave early if another person threw trash at him. A few seconds after he warned the crowd someone threw a bottle at him on stage, and Kid Cudi walked out Rolling Loud Miami abruptly cutting his set early in embarrassment. Kanye is throwing salt on the fresh wound with his clever post. Take a look at the video of that tragic situation.
It's safe to say that even with Pete Davidson breaking up with Kim Kardashian the beef he has with Kanye West is still going strong. In fact it might even heat up even more now since Kanye has new ammo to work with. Kanye West probably had that photoshopped New York Times picture waiting in the wings for the day his relationship would with his ex-wife would end.
The big question no one seems to be asking is if Kim Kardashian dating Pete Davidson was a publicity to help her stay in the headlines after her split with Kanye?