Kanye West is going viral on social media again, but this time it's for a less controversial reason. Kanye is not type of person to let someone live after they came at him the wrong way, so naturally he still has DL Hughley and Dave Sirus on his mind, two people who have criticized him in the past. This time the comedian in Kanye came out, and what he said was a bit funny.
Kanye West Clowns Dave Sirus and DL Hughley on Instagram
In two posts on IG, Kanye West clowned DL Hughley's fashion choices, and the trajectory of his career. In the same breath he also made fun of Dave Sirus' career, which he also feels is on the decline.
Some people might find what Kanye said about DL Hughley's clothing a bit ironic, since he himself is known for wearing some ridiculous outfits. Perhaps the funniest thing about the posts was Kanye West saying Dave Sirus needs a Hillary Clinton tattoo to save his career.
In his post clowning DL Hughley, Kanye West said:
"This grown a** man picked this outfit out himself. Is he influential or under the influence??? Funny thing is we'll probably end up being friends… I used to defend this n**** back when he had work…. Like nah he funny … you just gotta watch it 1 trillion more times to get it."
In his post clowning Dave Sirus he said:
"Come on Dave please help write some more culturally irrelevant jokes for SKETE. You don't have to have talent these days you just need a Hillary Clinton tattoo."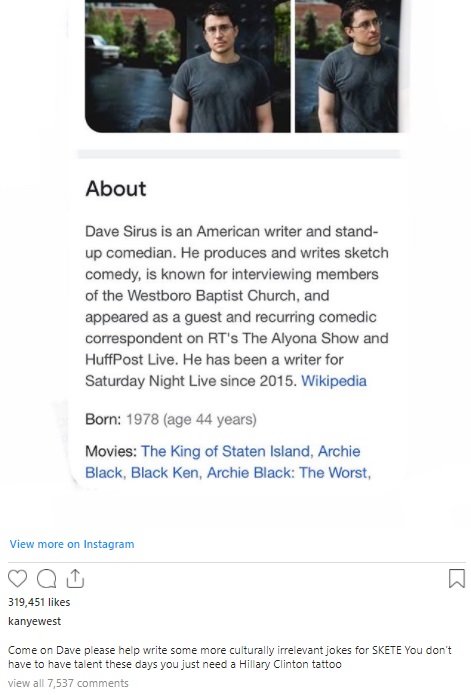 Kanye West's beef with DL Hughley started after he made some comments about his Kim Kardashian divorce situation during a DJ Vlad interview.
All things considered it's better to see Kanye West clowning people instead of threatening to use his massive wealth to hurt them.