The recent tragedy that claimed the lives of five people aboard the OceanGate Titan submersible has shocked and saddened the world. The Titan was a tourist vessel that was supposed to take passengers to the wreck of the Titanic, but it suffered a "catastrophic implosion" on Sunday, June 18, 2023, about 435 miles off the coast of Newfoundland, Canada.
The US Navy detected an acoustic signature consistent with an implosion in the area where the Titan was diving and lost communication with its mother ship. The debris from the missing submersible was found by a remotely operated vehicle about 1,600 feet from the bow of the Titanic, which rests about 13,000 feet deep in the North Atlantic Ocean.
The OceanGate Titan was a state-of-the-art submersible that could dive to depths of 13,000 feet and carry up to five people. It was designed by OceanGate Expeditions, a company that offered "the ultimate adventure" for those who wanted to explore the Titanic and other underwater wonders.
The company charged $250,000 per person for a week-long expedition that included three dives to the Titanic. The company claimed that its submersibles were safe and reliable, and that they had undergone rigorous testing and certification. However, some experts in the diving community had expressed concerns about the Titan's design and safety standards, and had even written letters to the company's CEO, Stockton Rush, who was among the victims of the implosion.
OceanGate Titan Grand Theft Auto Mod Goes Viral Fueling Negative Reactions
While the investigation into the cause of the implosion is still ongoing, some people have decided to exploit the tragedy for their own entertainment. A mod for the popular video game Grand Theft Auto (GTA) has been created that allows players to pilot a replica of the OceanGate Titan, and explore the Titanic wreck.
The mod has allegedly been dubbed the "OceanGate Titan: Titanic Expedition", and it allegedly provides a most realistic and immersive experience. The mod features detailed graphics and sounds that recreate the submersible, and the wreck site. The mod also allegedly includes a survival mode where players have to escape from the implosion, and reach the surface before they run out of oxygen. However, other reports suggest you can only use the mod to roam the waters of the GTA universe, and nothing more.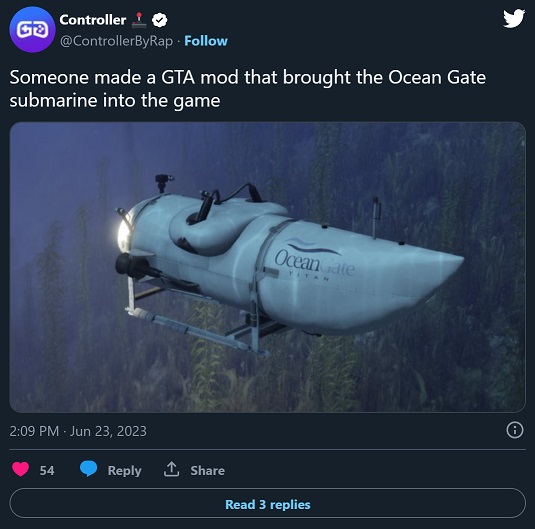 The mod has been met with outrage and condemnation by many people who find it insensitive and disrespectful to those who died in the tragedy and their families. Some have called for the mod to be removed from online platform. It's not often you see a PC video game mod causing this much of an uproar, but this is a unique instance.
What do you think, does this OceanGate tragedy GTA Mod cross the line?