If you are a fan of the NBA 2K series, you might be excited to hear that the next installment, NBA 2K24, could feature a brand new setting for the MyCareer mode. According to a leak from 2K Intel's twitter page, on the Next-gen consoles PS5 and Xbox One, the game will take place in a Beachfront City, which will be a "stunning tropical backdrop" for MyPlayers to show their personal custom style.
Are there Mandatory Side Quests in Beachfront City?
The leak also revealed that side quests would be optional, which comes as a pleasant surprise to many 2K gamers that have complained about the silly side quests in NBA 2k23. In the previous game, you had to do things like attend a fashion show, wear a hotdog hat, or dance with kids that looked half your age, which often felt out of place and distracting from the main basketball storyline.
The alleged Beachfront City tropical landscape sounds very different aesthetically from the city in NBA 2k23, which was a gritty urban environment with skyscrapers, subways, random oil spills, and graffiti.
The leak did not specify how big the Beachfront City would be, or what kind of activities and locations it would offer, but we can imagine that it would have a more relaxed and vacation-like vibe, with palm trees, beaches, and resorts. Interestingly enough NBA 2k21 on current gen consoles had scenery that is similar to what the leak is describing in some ways.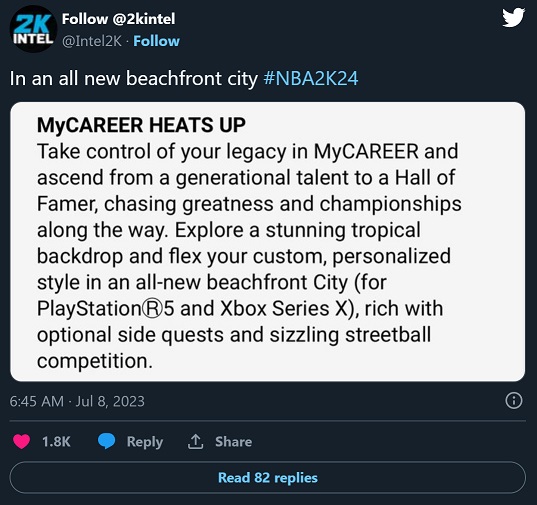 While the news is exciting, it should be noted that many 2K gamers on next gen were hoping they would get rid of the city all the together, because it seemed like a large scheme to harvest as much VC purchases as possible. However, considering that the salary of 2K's CEO is tied into the amount of VC that users purchase, that continues to be a pipe dream.
Do you think Beachfront City in NBA 2k24 will have the changes people were hoping for?