Anthony Edwards is one of the rising stars in the NBA. The 22-year-old shooting guard was the first overall pick in the 2020 NBA Draft and has been putting up impressive numbers for the Minnesota Timberwolves. He averaged 19.3 points, 4.7 rebounds, and 2.9 assists per game in his rookie season and made the All-Rookie First Team. He also had some memorable highlights, such as his poster dunk over Yuta Watanabe, and his 42-point performance against the Phoenix Suns.
Does Anthony Edwards Have Beef With Ronnie2K and NBA 2K Developers?
Despite his star status, Anthony Edwards still doesn't have a realistic face scan in NBA 2K24, the latest installment of the popular basketball video game series. A gameplay reveal showed that his new face in the game still looks nothing like him in real life.
Once again his facial features and hair are way off, making him look like a completely different person. How can a player like Anthony Edwards still not have an updated face scan in NBA 2K24?
This has caused a lot of reactions from fans and gamers on social media, who have been mocking and criticizing NBA 2K24 for its poor representation of Edwards. Some have compared his face to other players, celebrities, or random people. Others pointed out how it has been three long years of people witnessing this face scan debacle play out over and over again.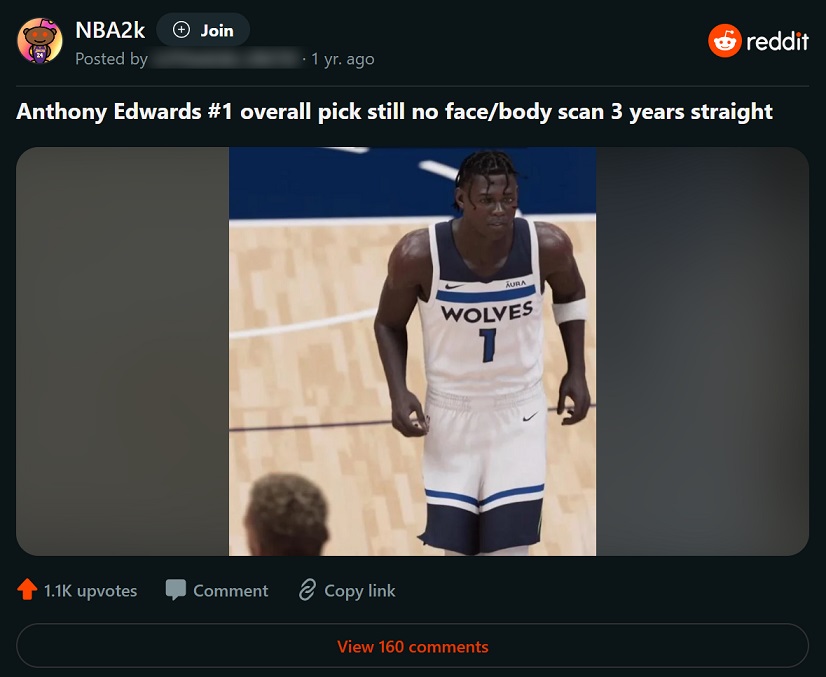 The situation is not that serious, but it is hilarious all things considered. How can NBA 2K24 fail to capture the likeness of one of the best young players in the league for three straight years? How can they make him look worse than before? How can they ignore the feedback, and requests from fans who have been hoping for an updated face scan for years?
Some people think that this could be proof that Anthony Edwards has beef with Ronnie 2K, and NBA 2K developers. They theorize that he might not be a fan of the game or Ronnie2K, so he doesn't set aside time to get his face scan done. Considering that it's alleged 2K developers travel to players to get face scans done, it shouldn't be that tough for him to have one done in theory.
Conspiracy theorists wonder if it's possible that Anthony Edwards is refusing to have his face scan updated in NBA 2K games. Others think that he might be trolling 2K developers to see what they will come up with without his face scan data.
Whatever the reason is, it is clear that Anthony Edwards deserves better from NBA 2K24. He is a talented and exciting player who should be represented accurately in the game. Hopefully, the artistic developers will fix this issue soon and give Edwards the updated face scan he deserves. Until then, fans and gamers will have to either laugh or cry at his current face in the game.