A man who left his house with only his PlayStation 5 after a devastating earthquake in Morocco is going viral on social media. The photo shows a shirtless barefoot man standing on the road holding his PS5 tightly with a look a worry on his face. He only saved the console, but not any of the peripherals such as the HDMI cable and controller.
The Viral Debate About the Man Who Saved His PlayStation 5 During Morocco Earthquakes
The photo has sparked debate over whether the man's priorities during an emergency were correct. Some people pointed out that he got his PS5, instead of getting more important things like shoes and clothing. They argued that he should have focused on his safety and survival, rather than his entertainment and luxury.
Others supported his decision to only get his PS5 out of the house, because they feel that getting the most expensive item you own is the smartest thing to do when you know your house is about to be destroyed. They praised him for his courage and loyalty to his gaming console, and said that he might need to play some games in the aftermath of the disaster to keep his mind at ease about the tragic situation.
The photo below was taken after a powerful 6.8-magnitude earthquake struck Morocco late Friday night and killed at least 1,305 people, according to Morocco's Interior Ministry. The earthquake was the strongest to hit that part of the North African nation in more than 120 years, according to the US Geological Survey. The epicenter was in the High Atlas mountains, about 72 kilometers (44.7 miles) southwest of Marrakech, a city of some 840,000 people and a popular tourist destination.
The quake caused widespread damage and destruction, especially in the provinces just south of Marrakech, where hundreds of buildings collapsed and thousands of people fled their homes. The Moroccan government has activated all resources available to deal with the tragedy, and urged people to keep calm and avoid panic.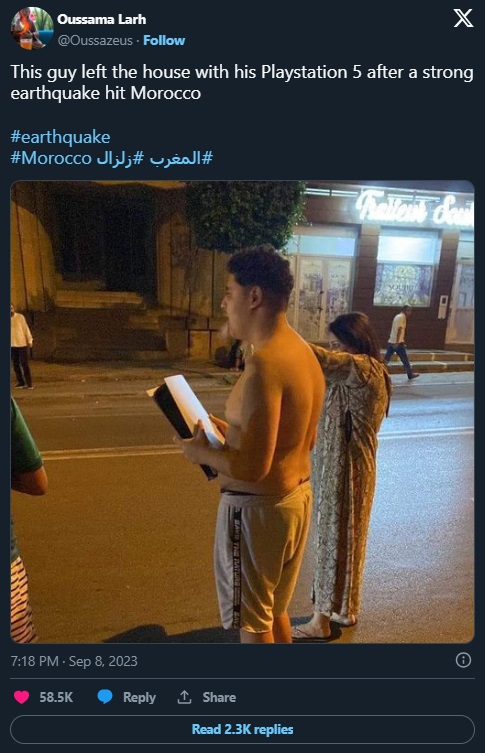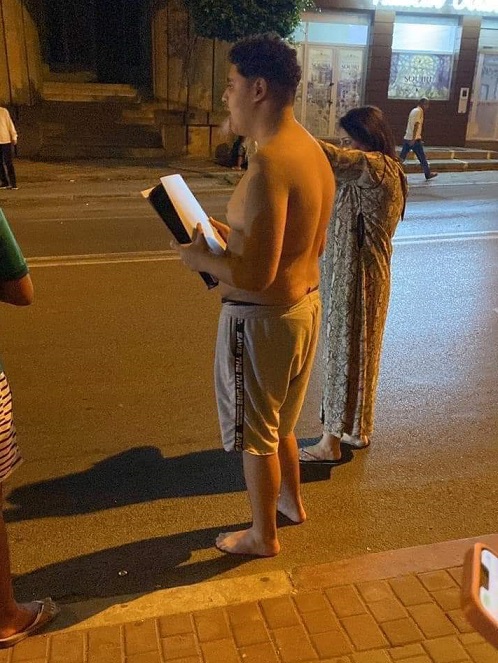 The photo shows how valuable the PS5 is to some people, and also free publicity for PlayStation. The PS5 is a highly sought-after gaming console that was released in November 2020 by Sony. It has been in short supply ever since, due to high demand and production challenges. The PS5 costs around $500 in the US, but it can be much more expensive in other countries due to taxes and import fees.