OnlyFans is a platform that has risen to new heights in recent years as an easy way for people to make money while showing off their bodies. We have all heard countless stories of how women who were working regular jobs turned to OnlyFans to become rich in a short period time. One of the most famous internationally was a Myanmar model named Nang Mwe San whose nude photos now have her sitting a prison cell unjustly in most people's opinion.
Political Conspiracy Theory of Why Myanmar OnlyFans Model Nang Mwe San Nude Photos Got Her Arrested and Jailed for 6 Years Goes Viral
On August 5, 2022 police arrested Nang Mwe San on grounds that she purposely tarnished Burmese culture by posting nude photos of herself on OnlyFans. The situation was sketchy, because prior to her arrest she had participated in protests against Myanmar's military control. While police claimed her arrest was due to her OnlyFans content, many people theorized they were getting revenge due to her protests going viral. One February 1, 2021 the Myanmar military overthrew Aung San Suu Kyi's democratic regime and took complete control of the country, which is what she was protesting.
That conspiracy theory was heightened by the fact that a Burmese actress named Thinzar Wint Kyaw that was also arrested for posting suggestive photos on social media had also protested against Myanmar's military junta.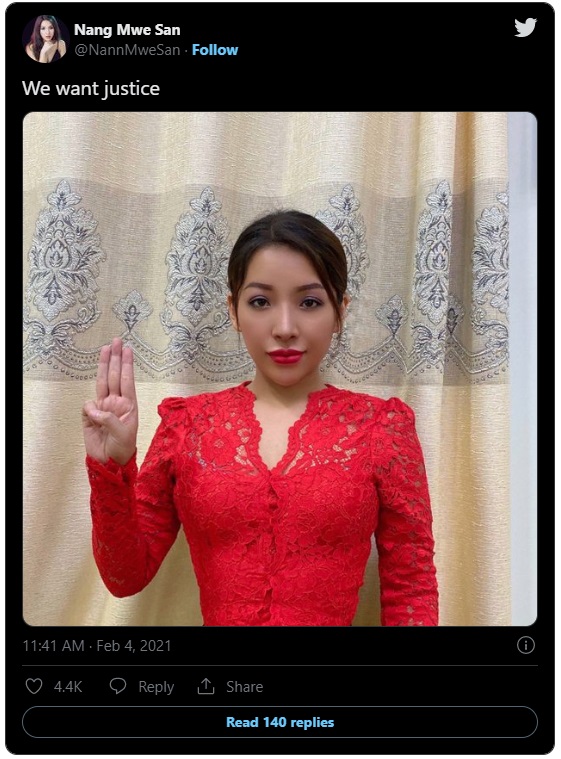 When Nang Mwe San was arrested she was residing in a region of Myanmar that was completely controlled by the Military, so they were legally able to deny her a lawyer. In addition her case was decided on in a closed trial, which made prison time an unfortunate inevitability. Her case is historical, because it was first time Myanmar's Electronic Communications Act was used to prosecute someone. Before the Myanmar OnlyFans model was jailed she had uploaded hundreds of nude images, and over 70 videos. At one point she claimed to be making around $10000 a month from her content.
Before becoming an OnlyFans star Nang Mwe San was a doctor with extensive medical experience. Officially she is charged with violating Section 33(A) of Myanmar's Electronic Transactions Law. However, as aforementioned many believe the charges are part of a conspiracy to cover up Myanmar Military taking revenge on her for protesting their regime.
Myanmar OnlyFans model Nang Mwe San being sentenced to 6 years in prison is considered the first known case of its kind in world history. Leaders around the world are calling it a violation of human rights.