Doja Cat is an artist that has never been afraid to speak her mind, and that also applies to her loves life. It's well known that Doja Cat likes white men, so it's no surprise who her newest love interest is. Apparently Doja Cat is head over heels in love with Joseph Quinn aka Eddie Munson from Stranger Things, at least in a lustful way. She's doing everything possible to make sure he knows how much she wants him. Today that became apparent when Stranger Things Noah Schnapp aka Will Byers leaked Doja Cat's DMs about this costar.
Back in May Doja Cat sent out a series of tweets letting the world know how attractive she thought Joseph Quinn was. In one tweet she wrote, "Joseph Quinn fine as S***". More recently in another tweet responding to another woman gushing over his looks she wrote, "it's criminal". Instead of fantasizing about him apparently Doja Cat made a move to see if he would reciprocate the interest. To accomplish this task she enlisted the help of Noah Schnapp.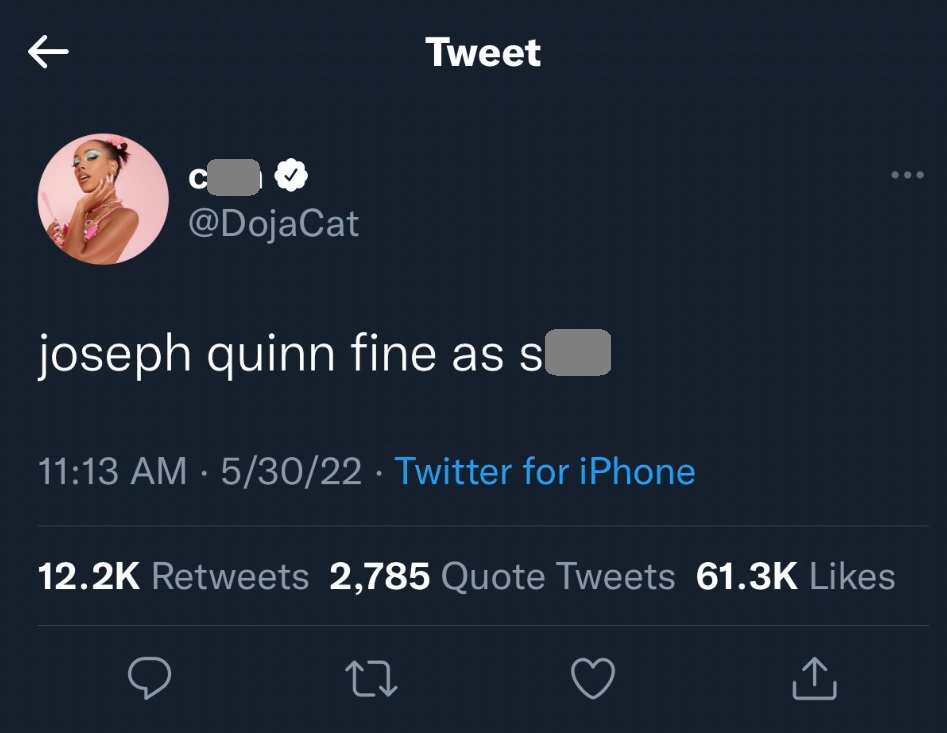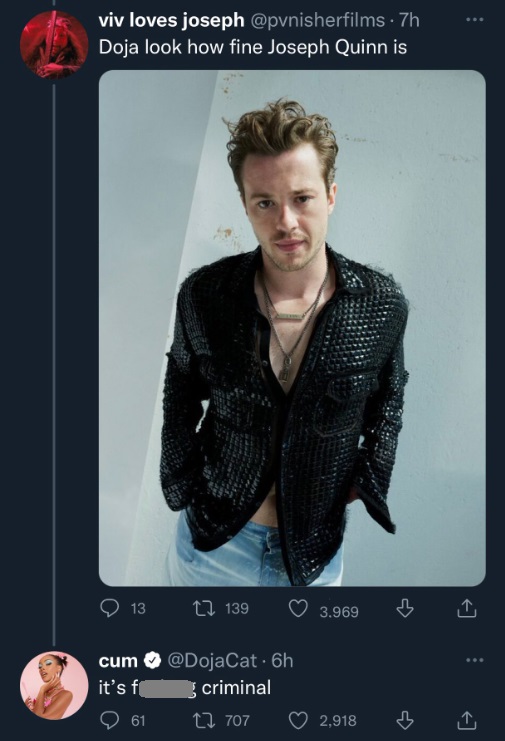 Is Eddie Munson aka Joseph Quinn Smashing Doja Cat? Will Byers aka Noah Schnapp Leaks Doja Cat DMs about Joseph Quinn
Leaked DMs Doja Cat sent to Noah Schnapp revealed that she was trying to get him to hook her up with Joseph Quinn. In the messages she told Noah Schnapp to tell Joseph Quinn to hit her up, and also wanted to make sure he didn't have a girlfriend. She was confused about how to slide into his DMs, because she didn't know his IG or Twitter account username. Luckily for her Noah Schnapp provided her with a link to his IG page, so they may or may not be hooking up now.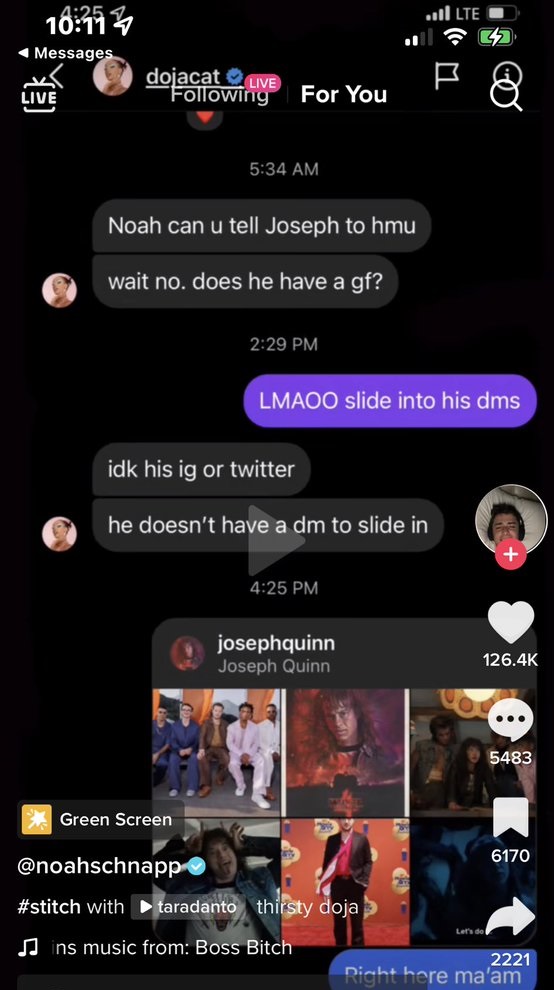 Social Media Reacts to Noah Schnapp DMs Hooking up Doja Cat and Joseph Quinn
On social media people are loving how unapologetically thirsty Doja Cat is for Joseph Quinn. The reactions to her DMs to Noah Schnapp and tweets about Eddie Munson were super hilarious.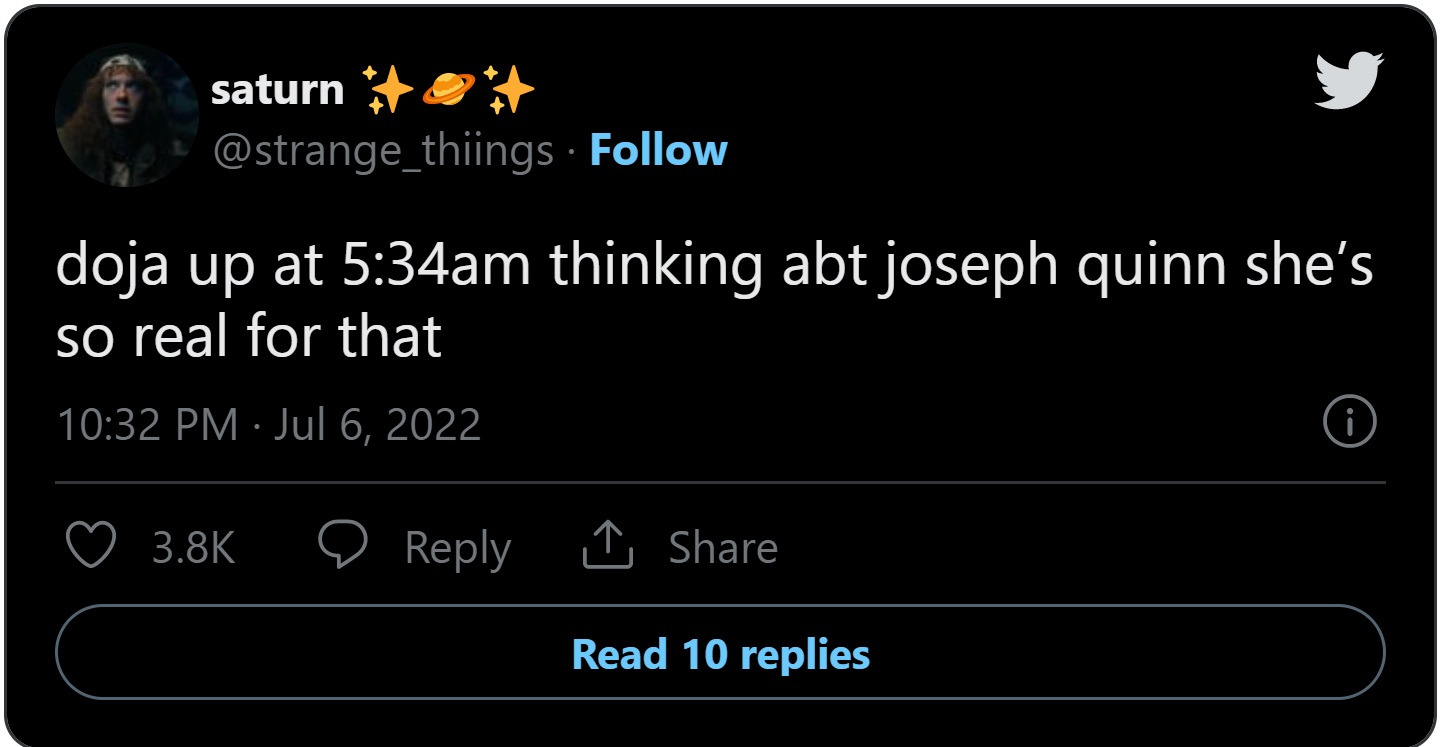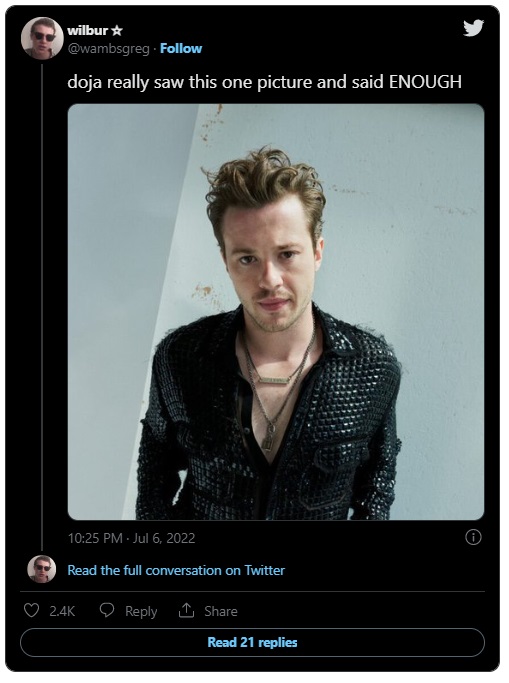 It's safe to say if Joseph Quinn turns down Doja Cat she might be devastated mentally. In the same breath if he does start dating her she will probably be the happiest woman in Hollywood. Who knows maybe Joseph Quinn is smashing Doja Cat already. We all know people in Hollywood move fast.
What will become of this situation? Will Doja Cat marry Joseph Quinn, and start a family? Only time will tell. It's ironic that Will Byers is playing relationship mediator in real life kind of like he does in the show at times.