Meghan Markle exposed the Royal Family as racists in her interview with Oprah shocking the world. According to her claims they allegedly denied her son Archie security, because he was part black, and they also had conversations about how dark the color of his skin would be, or so she claims.
Black Twitter Enters the Chat on Meghan Markle vs Royal Family Disdain for Dark Skin on Archie
Oprah's reaction to Meghan Markle saying the Royal Family was concerned about Archie having dark skin fired up multiple social media armies including Black Twitter and UK Twitter. Now Black Twitter is reacting Meghan Markle revealing the Royal Family's "dark skin" concerns about Archie, and people are very heated.
Here is the video clip of Oprah reacting to Meghan Markle exposing the Royal Family as racists towards Archie for possibly having dark skin. Press the unmute button at the bottom right of the video if you hear no sound.
Black Twitter Reactions to Meghan Markle's Revelation about Royal Family's Racism Towards a Dark Skinned Archie
black twitter getting ready to pull up on the royal family 😭#HarryMeghanOprah pic.twitter.com/m9sI0WEulR

— Bilal Gulleid (@BilalGulleid) March 8, 2021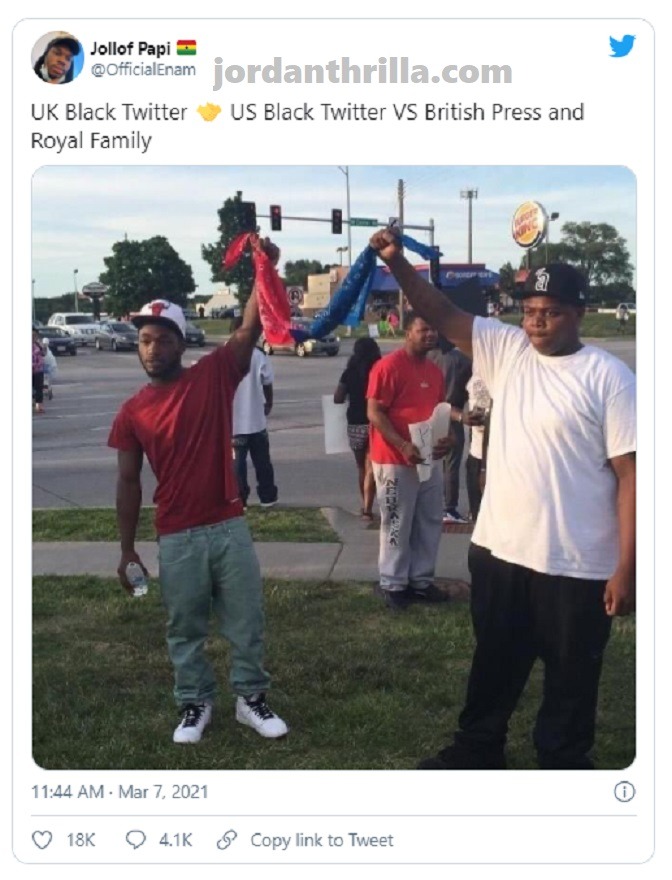 Black Twitter collectively packing our bags to roll up on the royal family #HarryandMeghanonOprah pic.twitter.com/Ck6mjKcbZv

— Blackie Brown (@BlaiqueJLee) March 8, 2021

If what Meghan Markle is saying is completely true it just goes to show that even in this day and age the Royal Family is still keeping the "One drop rule" alive. Meghan Markle didn't say which member of the Royal Family had dark skin concerns about Archie, but she did confirm it wasn't the Queen. When Archie grows up and learns how his Royal Family members were disparaging him even before he was born it could have a very deep mental affect on him.
This situation is so sad. Pray for Meghan Markle, and her son Archie.
Author: JordanThrilla