Charlotte Hornets suspended broadcaster John Focke for saying a racist N word comment "Denver N******". During the Nuggets vs Jazz game, John Focke tweeted "Shot making in this Jazz vs N****** game is awesome". You could say it's autocorrect that made the mistake, but your phone makes suggestions based on words you have already used often.
Charlotte Hornet PR team released a statement confirming John Focke was suspended indefinitely for the racist comment.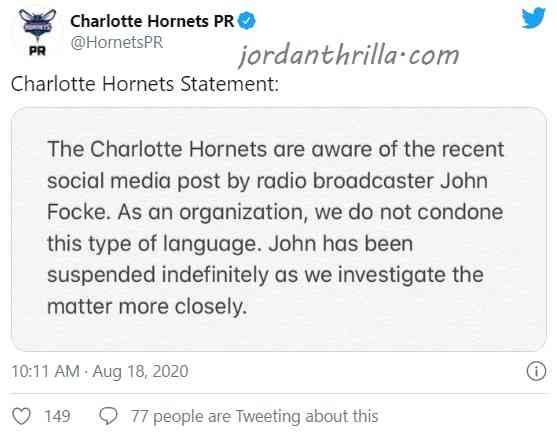 With the amount of racial tension going on in the world today, it's really shocking that John Focke made a racist statement like this about the Nuggets. How can someone possibly be dumb enough to tweet "Jazz vs N******"? This is the kind of mistake professionals should never make.
Now John Focke exposed himself as a racist and lost his job. Karma worked quickly in this case.
Author: JordanThrilla