Draymond Green finally tied the knot with the love of his life, and he did so in one of the most unique and risky ways for an NBA player. In a star studded affair that had several superstars there was one addition that had social media talking the most. The addition also has people worried about the NBA doing surprise drug tests on NBA players at the wedding.
Marijuana Blunt Station at Draymond Green Wedding for Marrying Hazel Renee Goes Viral
Draymond Green's wedding was truly a sight to behold. He was getting married to Hazel Renee who went to Michigan State with him. At his wedding were superstars such as Lebron James, Stephen Curry, Moses Moody, Rich Paul, and more. It wasn't the superstars that caught people's attention though, it was the condiments that Draymond had ready and prepared for his guests. Something that was peculiar to see at an event with NBA players.
A viral video shows that there was a weed blunt station at Draymond Green's wedding. These weren't skinny struggle blunts, but they were almost as fat as a human groin appendage as Young Thug used to say. In the video there was massive pile of weed sitting on a table where a professional blunt roller was getting things ready for any guest who wanted to spark up, and get lifted while enjoying the event. Of course given that Draymond Green and several other NBA players were in attendance, people are worried about the league drug testing them. NBA has laxed their rules on marijuana smoking, but they still do drug test if they feel there is reason to believe a player has smoked. Maybe that rule has changed as well though.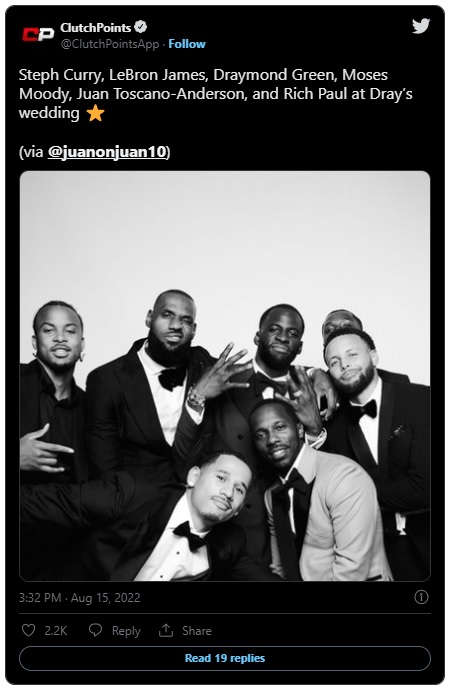 There was once a time when Bronny James was caught smoking weed on Instagram, so there's a good chance Lebron smokes weed on the low, in fact it's alleged that most NBA players smoke weed secretly since it has less side effects than other pain medications according to some scientific studies. It's always best to be drug free though.
In any case congratulations to Draymond Green and Hazel Renee on getting married. Hopefully the NBA doesn't drug test Draymond Green, Lebron, Steph Curry, or any other NBA players that were there.