It seems like every time it's Meghan Markle's birthday her true age becomes the topic of conversation once again. Officially Meghan Markle is listed at 41 years old, but conspiracy theorists are still convinced she's much older than she leads on in public. This year people suggested an old graduation photo is proof that Meghan Markle is lying about her age, but is it really?
Is Meghan Markle 45 Years Old? 1995 Graduation Picture Sparks Meghan Markle Age Conspiracy Theory on Her Birthday
Recently Meghan Markle's graduation photo went viral on social media, because of the year on her tassel. In the photo Meghan's graduation cap has a '95' on it. Conspiracy Theorists believe that in this photo she was 18 years old, which would make Meghan Markle 45 years old. People believe she is lying about her age, so she doesn't seem too much older than her husband who is 37. However, there is evidence that could prove she isn't lying about her age, and she might be truly 41 years old. Before we explain take a look at the viral photo.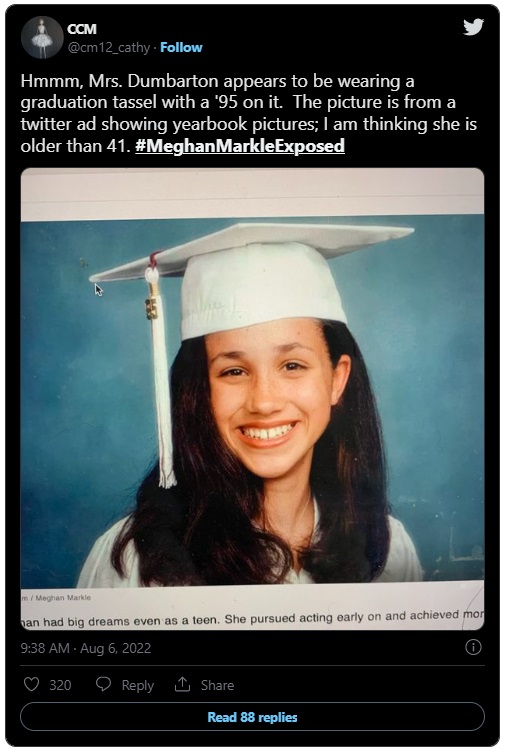 Some people claim that Meghan Markle's classmate confirmed she is really 45 years old.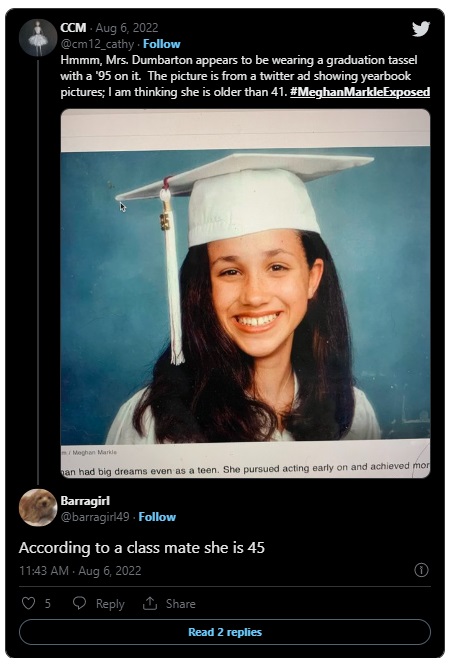 The Proof that Meghan Markle is 41 Years Old
A video that went viral in 2020 allegedly shows Meghan Markle during her middle school graduation in 1995 when she was 14 years old. In this video she is wearing the same graduation cap and gown seen in the photo above. If that video is real then it would make Meghan Markle 41 years old, since that was 27 years ago. Take a look, and compare her uniform to the photo above.
Is it possible that Meghan Markle is 45 years old? In theory it could be because she has enough money to pull off a lie like that, but at the moment there is not enough evidence supporting the Meghan Markle age conspiracy theory. It's safe to say she's probably telling the truth, and Meghan Markle's real age is 41, but who really knows.