NBA 2k24, the latest installment of the popular basketball simulation game series, is set to release on September 8, 2023 for PlayStation 5, Xbox Series X/S, PC, and Nintendo Switch. The game promises to deliver an immersive and realistic basketball experience with stunning graphics, gameplay improvements, and new features. One of the most anticipated features is The City, a revamped version of the open-world mode where players can explore, interact, and compete with other players online.
The City is all about your basketball career in NBA 2k24, where you can choose your affiliation, earn reputation, complete side quests, and customize your player. The game developers have released an official gameplay trailer for The City, showcasing the new beachfront location, the streetball courts, the shops, the NPCs, and the activities that players can enjoy in The City.
However, some eagle-eyed fans have noticed a possible easter egg in the trailer that could hint at the return of a fan-favorite most hated character from NBA 2k23: Shep Owens, or his death.
Who is Shep Owens?
Shep Owens was the main antagonist of NBA 2k23's MyCareer mode, where he was introduced as a rival of the player's character. He was a former high school and college basketball star who had a promising future in the NBA. A feud erupts between your character and him, after you get drafted one spot ahead of him.
Shep Owens was voiced Duby Maduegbunam, who also possibly lent his likeness to the character. He had a distinctive logo that resembled a stylized S with a star on top, which appeared on his clothing and accessories. He was a formidable opponent in NBA 2k23, as he challenged the player's character several times throughout the story mode.
He also had a loyal fan base that supported him and booed the player's character whenever they faced each other. He was widely regarded as one of the best villains in the NBA 2k series, as he had a compelling backstory, a charismatic personality, and a fierce rivalry with the player's character.
What is the Easter Egg that Might Reveal Shep Owens is Dead in NBA 2k24?
The possible easter egg that could indicate Shep Owens' is returning in NBA 2k24, or possibly died is located at around the 15 seconds mark of The City trailer. In this scene, the camera pans over a building that has a sign that reads "Art of Shooting". On the side of the building, near a shadowy area, there appears to be a graffiti that resembles Shep Owens' logo from NBA 2k23, with a bunch of flowers underneath it.
The presence of Shep Owens' logo in The City trailer could mean several things. It could mean that Shep Owens is returning in NBA 2k24 as an NPC. Or it could mean that has some role or influence in The City mode, such as being an affiliation leader or a side quest giver. It's also possible that his logo is purely decorative like a memorial paying homage to his character.
The reason why some people feel the Easter Egg could mean Shep Owens has passed away or retired from basketball in NBA 2k24's timeline, is the location in relation to the flowers beneath it. Is it a coincidence his log is above those flowers, or did 2K secretly reveal in the trailer that Shep Owens is dead? Take a look.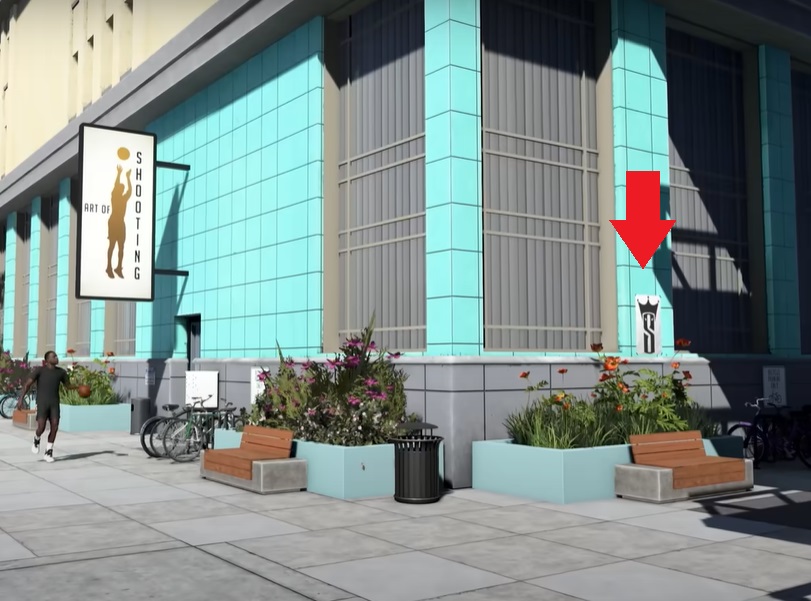 The easter egg of Shep Owens' logo in The City trailer has sparked a lot of speculation and excitement among NBA 2k fans. Many fans are hoping that Shep Owens isn't dead, and will make a comeback in NBA 2k24, as they enjoyed his character and his rivalry with the player's character in 2k23.