A Reddit user with the username Beneficial_Ratio_897 has posted on the NBA2k subreddit that he has created a private server for NBA 2K16 and 2K17 that allows him to use some of the online features of the games, which have been shut down by 2K Sports for over 5 years now. He claims that his project is still a work in progress, and that he hopes to eventually enable the popular MyPark mode, where players can create their own custom characters and compete against others online.
What Features Currently Work on the Alleged NBA 2K16 Private Server?
In his post, he detailed the specific online features that work on his NBA 2K17 private server. The features that work include MyLeague Online, face scan abilities, tattoos, and the ability to upload rosters. He also said that he has tested his private server with NBA 2K16, and that it has mostly the same features. However, he admitted that right now the features are very limited, and that he is still working on them to make them fully functional.
He also revealed that his ultimate goal is to get a fully functional MyPark mode, where players can create their own MyPlayers and compete against others online, just like when 2K Sports had the servers up. He said that he is trying to figure out how to make the server compatible with different versions of the game, and how to handle the matchmaking and lobby system. He also asked for help from anyone who is interested in his project or has any knowledge or experience in server development.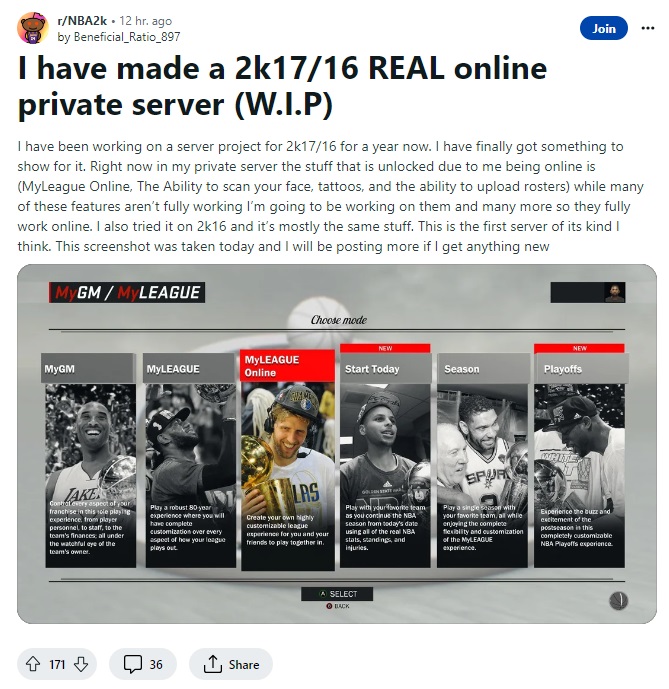 His post has generated a lot of interest and curiosity from other NBA 2K fans, who have commented on his post with questions, suggestions, praises, and doubts. The is a general appreciation for effort the reddit user put into this alleged project was very evident.
It is unclear whether Beneficial_Ratio_897's project is legitimate or not, or whether he will be able to achieve his goal of restoring the online features of NBA 2K16 and 2K17. However, his post has certainly sparked a discussion among the NBA 2K community about the possibility of reviving the old games and their online modes, which many fans still miss and enjoy.