Las Vegas Raiders defensive end Chandler Jones has made shocking allegations against his team on social media, claiming that they are covering up a child molestation incident involving his god daughter, which has fueled many conspiracy theories about how far this situation really goes.
Jones, who has been mysteriously absent from the team, posted a series of tweets on Friday on his account @chanjones55, accusing the Raiders of taking money out of his pocket and blocking him from contacting his family. It was the first peak into the alleged reason he was sent away from the team abruptly.
How Chandler Jones Revealed that Raiders Allegedly Covered Up a Child Molestation Incident Involving His Goddaughter
In one tweet, Jones wrote, "Now you taking money out of my pocket, here I am watching my team lose, because someone was molesting my god daughter".
In another tweet, he accused Raiders owner Mark Davis of using apps to block him from reaching his family, writing, "The Hugh class guy is using apps to block me from contacting family".
Jones also claimed that as soon as he found out what allegedly happened to his goddaughter, he was sent away from the team, writing, "Once I found out what was done to this little girl I wasn't allowed back in the building".
Jones did not provide any details or evidence to support his allegations, nor did he name the alleged perpetrator or victim. He also did not specify when or where the alleged incident took place. Some of his tweets have allegedly since been deleted, but screenshots of them have been circulating online. The Raiders have not issued any official statement or comment on Jones' allegations as of yet.
Jones, who joined the Raiders in 2022 after six seasons with the Arizona Cardinals, is one of the best pass rushers in the NFL. He has over 112 career sacks, and was named to the NFL 2010s All-Decade Team. It's no surprise his team has been hurting without him. However, if his allegations are true he shouldn't want to play for the Raiders ever again. Could you play for a team that someone who allegedly molested your goddaughter works for?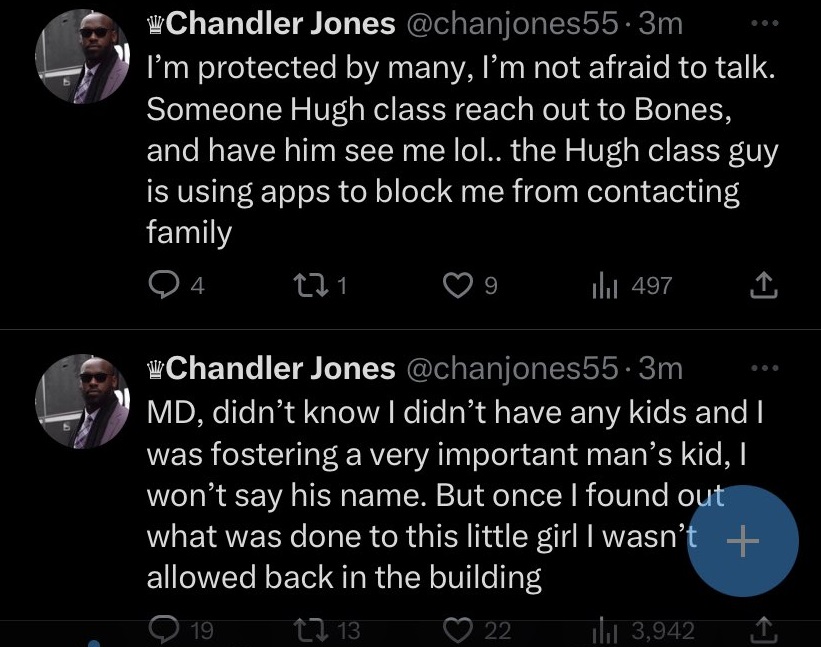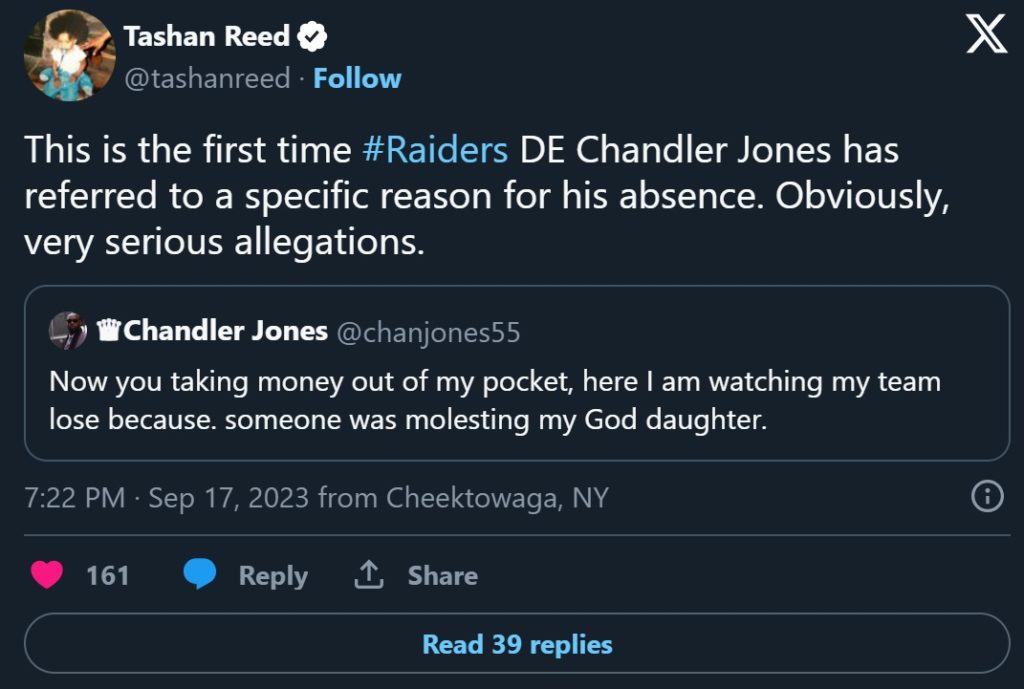 Jones' allegations have raised serious questions and concerns about the Raiders' organization and culture.
Perhaps the scariest part about this situation is the fact that Chandler Jones is revealing that a NFL team allegedly has enough power to stop him from speaking to his own family, after incident involving another family member.
If an NFL franchise can dictate the most intricate parts of players life, doesn't that go beyond the realm of sports? The child molestation conspiracy surrounding the Raiders might be one the most horrifying sports stories of all time.