Is Activision Blizzard racist? The state of California is suing Activision Blizzard on grounds of $exual harassment and a frat boy culture, but details of the lawsuit paint an even sinister picture. Allegations in leaked documents from the California lawsuit detail how Activision Blizzard was racist toward black women, and sexist towards women in general.
Details on Activision Blizzard's Racism Towards Black Women
Among the many allegations is an accusation that Activision Blizzard made it harder for black women to advance within their company. One black woman claims it took her two years to be made a permanent employee, while men hired after her were made permanent employees much quicker.
Another allegation alleges that Activision Blizzard's male managers micromanaged black women, and made it harder for them to request time off. According to the report an Activision Blizzard manager made a black woman write a one page essay on how she would spend her time off when she requested time off.
The leaked excerpts alleged that Activision Blizzard's male managers criticized women's body language despite male workers slouching in their chairs all day. In addition women were criticized for asking for help, while male employees never received the same type of critique.
Details on How Activision Blizzard Treated Pregnant Women and Mothers
Perhaps the most shocking revelation from the leaked California lawsuit documents was the allegations that Activision Blizzard made work a living hell for pregnant women. It's alleged that Activision Blizzard managers would ignore medical restrictions given to pregnant women, and would give them negative reviews while they were out on maternity leave. It's also alleged that mothers would be criticized for picking up their kids from daycare, even though male employees were playing video games at work. Lastly it's alleged that Activision Blizzard would kick women out of lactation rooms so they could use the space for meetings.
Take a look the leaked California Lawsuit excerpts about Activision Blizzards workplace environment.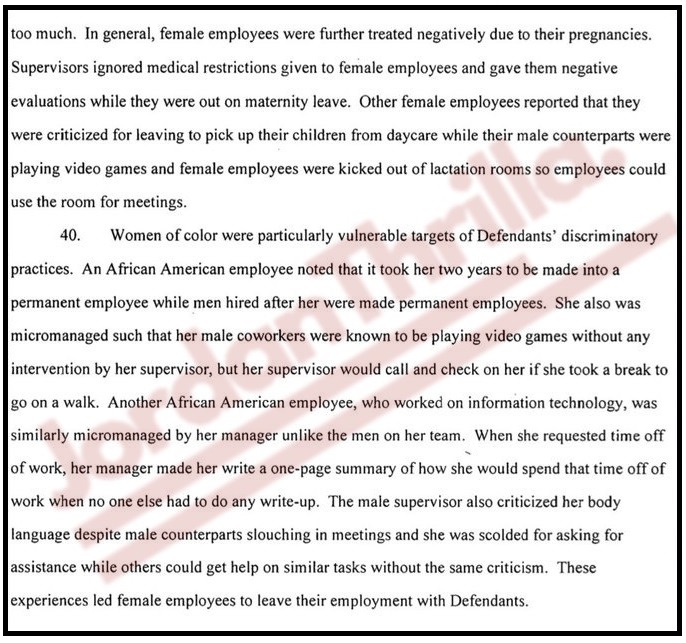 Activision Blizzard has responded to California's lawsuit claiming they rushed to file an inaccurate complaint, but which part are they claiming is inaccurate?
If you go based off the accusations from former female employees it seems Activision Blizzard was racist toward black women, and sexist towards all women who worked for them. However, in the court of law you're always innocent until proven guilty, so it's best to see what the full investigation uncovers. Right now it's not looking good though.
Author: JordanThrilla Staff