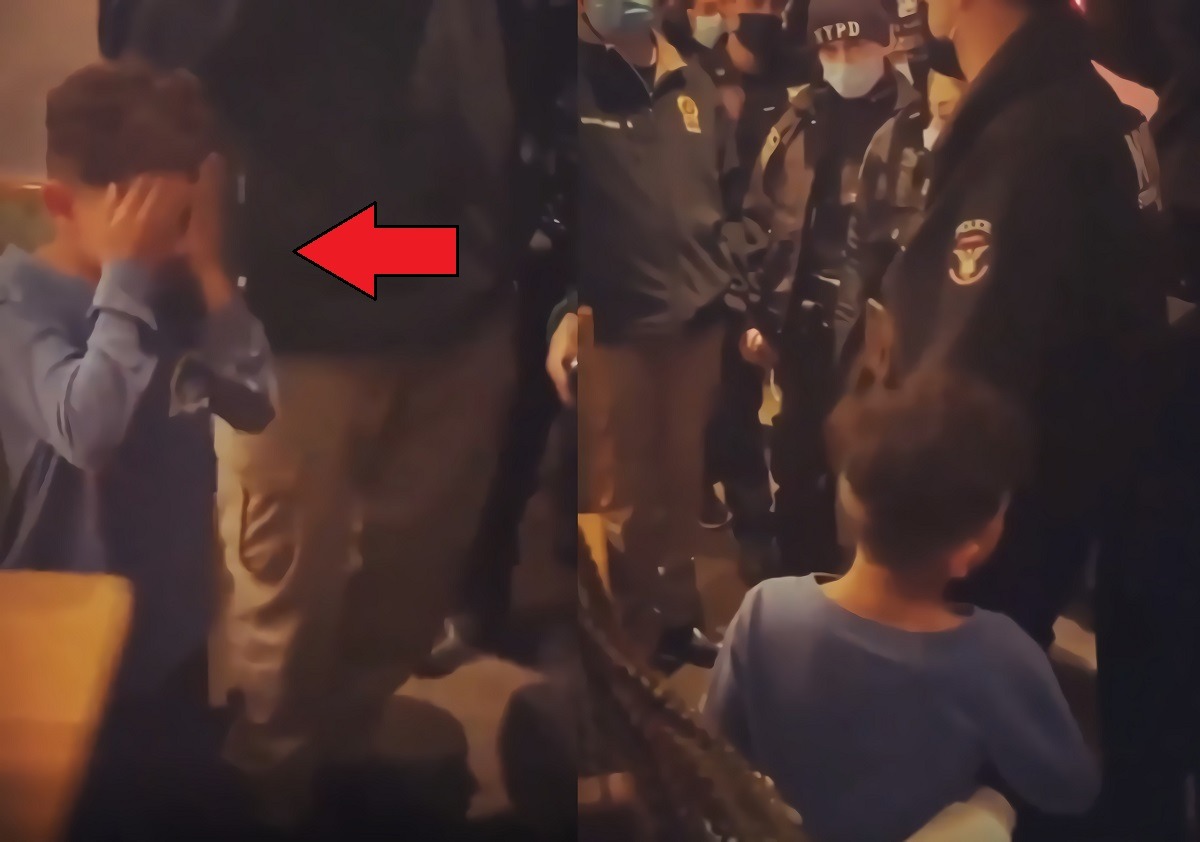 Many people would agree that vaccine mandates have some flaws, but none are quite as bad as the mandates put in place by New York. For people living in that state even their 5 to 11 year old kids have to take the COVID vaccine just to eat inside a restaurant. Despite recent data showing mandates are possibly ineffective in stopping the spread of COVID, people in NY continue to be prosecuted by the NYPD enforcing their strange new laws. One of the saddest incidents was a recent video showing NYPD police bullying an unvaccinated 5 year old kid who was eating with his family.
Video Shows NYPD Kicking Unvaccinated 5 Year Old Kid Out of New York

Restaurant While He Was Eating with His Family
In the sad footage going viral a group of NYPD police officers kick a 5 year old kid out a NY restaurant for not being vaccinated. They interrupted an innocent family's dinner to enforce the strange vaccine mandate law. As the unvaccinated 5 year old kid was crying trying to comprehend what was going on the NYPD was aggressively telling his mother that if she complies and leaves the restaurant she wouldn't be arrested.
The heartbreaking footage has filled critics of vaccine mandates with much anger and sorrow. Considering vaccinated people can still catch and spread COVID, so many things about the new policies don't make sense. In the videos below you will see that even vaccinated people at the restaurant were criticizing the NYPD for bullying a 5 year old kid for not being vaccinated. They made comments such as "hope you're proud of yourselves" and "a five year old kid crying is funny right".
Part 2.
Part 3.

This is really what the pandemic has come to, a city with a high crime rate wasting police resources on seemingly ineffective vaccine mandates now targeting children that probably shouldn't even be putting the COVID vaccines in their bodies. These NYPD officers will go home and the highlight of their day will be kicking a 5 year old kid out a restaurant, that's just tragic.
It must be a nightmare for people living in New York right now, but maybe things will get better when the Mayor elect takes office.
Authors: JordanThrilla Staff