Yesterday Taylor Swift released the long awaited 10 minute version of "All Too Well", which targeted a relationship she had with Jake Gyllenhaal 10 years ago. In the song Taylor Swift opened up about the heartbreak he caused her with words that conveyed emotional pain like never before heard in her music. Naturally social media isn't very happy about her ex-lover's actions.
What Did Taylor Swift Say About Jake Gyllenhaal in 'All Too Well' Lyrics, and Why Are People Mentioning Jake Gyllenhaal's Scarf?
During the 10 minute heart to heart with her fans that is 'All Too Well', Taylor Swift references some very intimate details about the pain Jake Gyllenhaal caused her. She even mentions items of hers that are probably still in his house. For example, in one part of the song Swift insinuates that Gyllenhaal is very immature saying,
"And I was never good at telling jokes but the punch line goes, I'll get older but your lovers stay my age"
In another part of the song Taylor Swift says,
"But I'm in a new hell every time you double-cross my mind. You said if we had been closer in age maybe it would have been fine, and that made me want to die."
This line stands out most, because when Jake Gyllenhaal was dating Taylor Swift he was 29, and she was 20. However, he was apparently lying to her when he made that statement, because in 2021 Gyllenhaal is now 40, and dating a 25 year old model named Jeanne Cadieu. Clearly younger women are his type, unless of course he has told Jeanne Cadieu the same thing.
Why is Jake Gyllenhaal's Scarf Trending?
In terms of Jake Gyllenhall's scarf Taylor Swift said this,
"And I left my scarf there at your sister's house. And you've still got it in your drawer, even now oh, your sweet disposition and my wide-eyed gaze".
It's clear Jake Gyllenhaal left a stain on Taylor Swift's heart that won't ever go away. Take a listen.
Social Media Reacts to Taylor Swift Exposing Jake Gyllenhaal Breaking Her Heart on "All Too Well" Lyrics
On social media Taylor Swift fans really came after Jake Gyllenhaal after learning what he did to her during their brief relationship. Take a look at some reactions to Taylor Swift's "All Too Well" lyrics.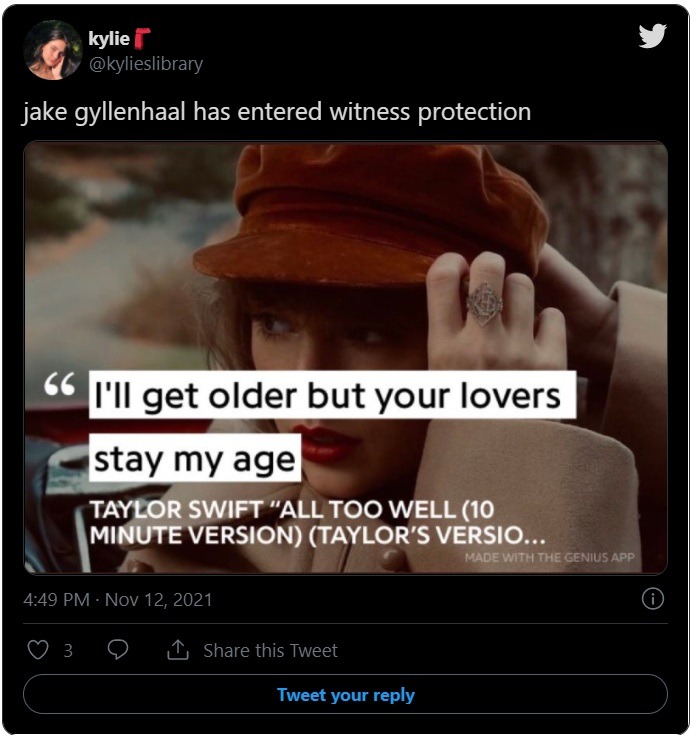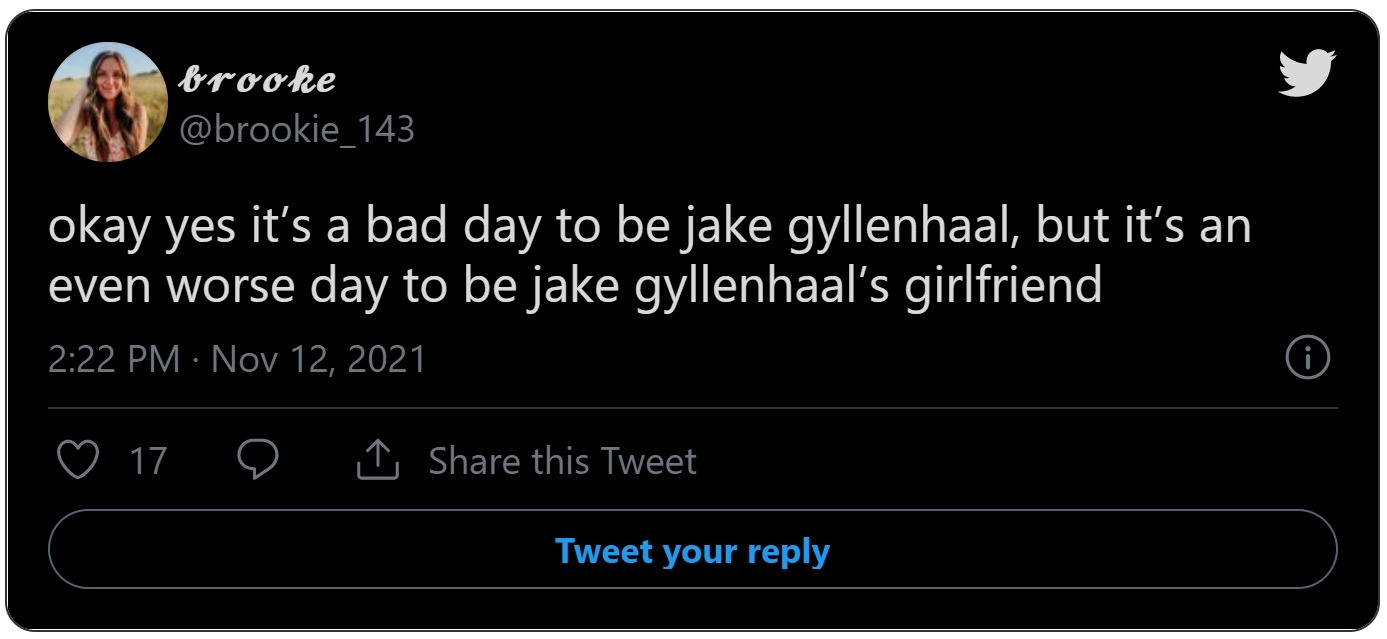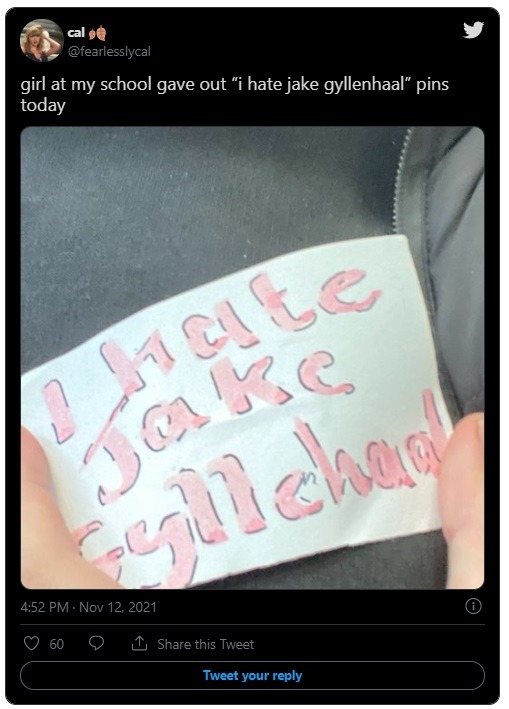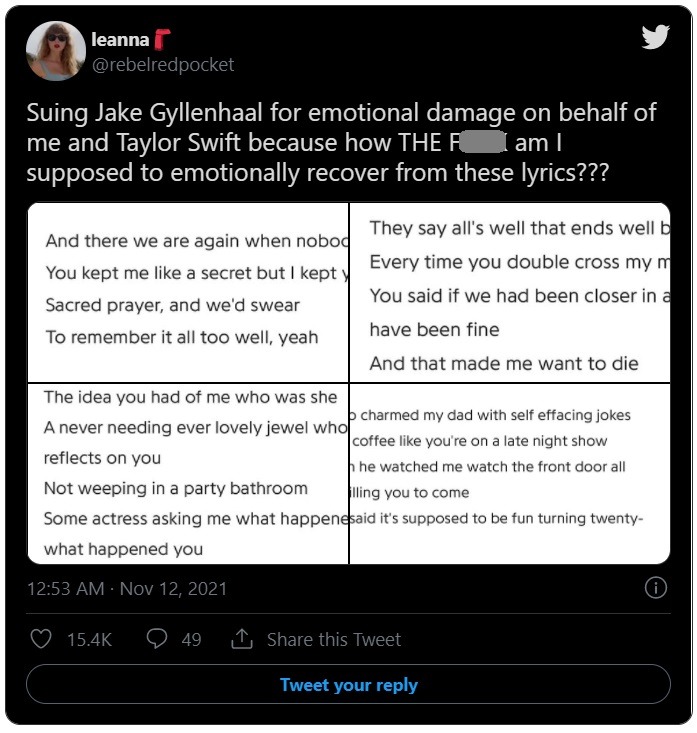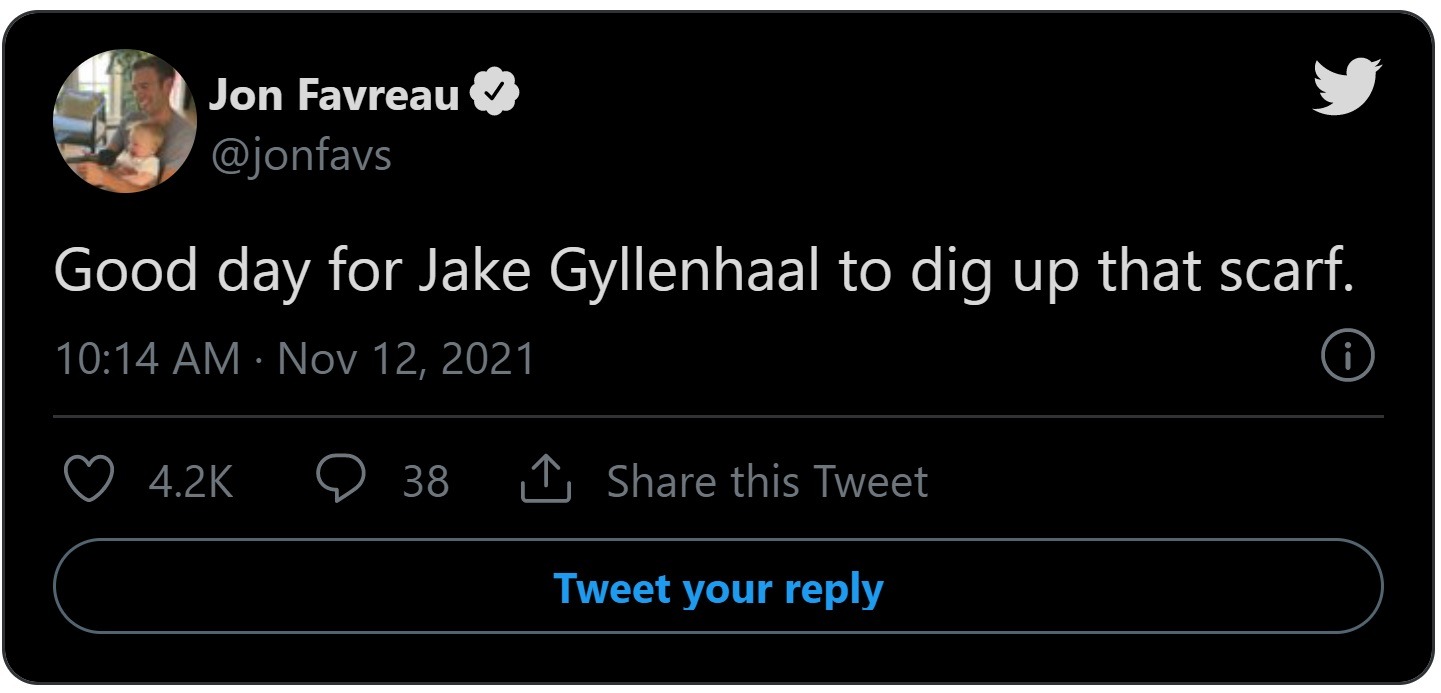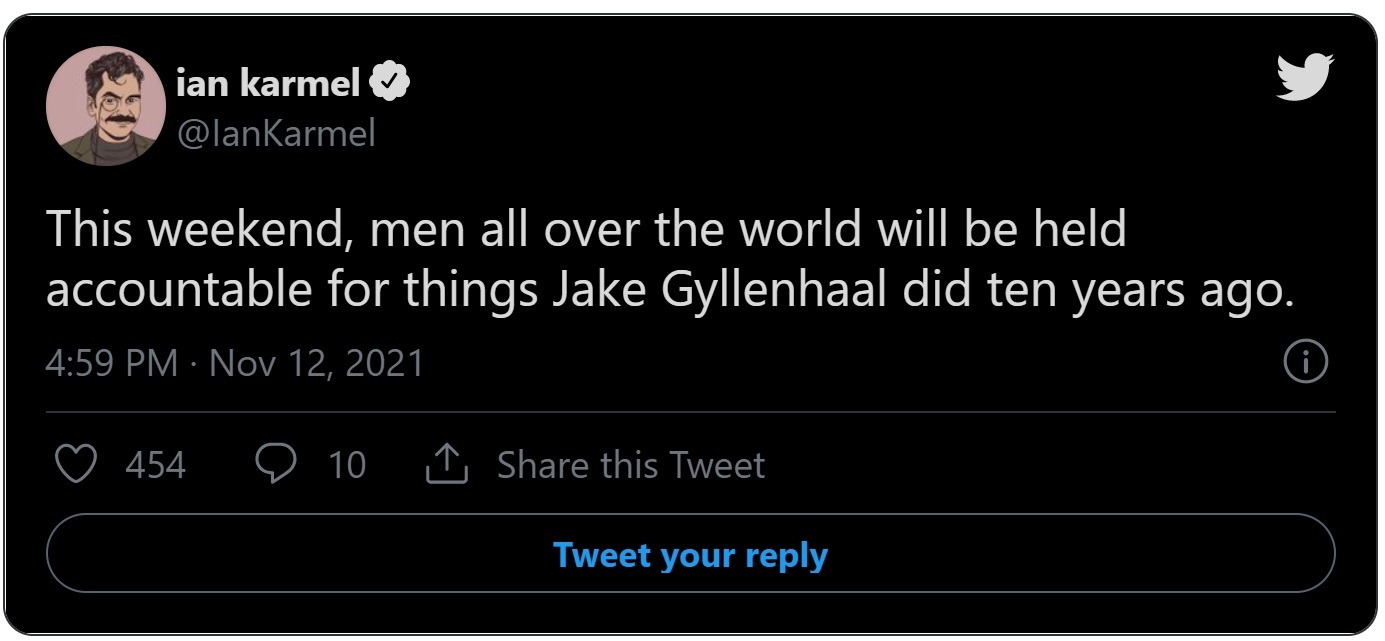 Jake Gyllenhaal dated Taylor Swift for only three months beginning in October of 2010. He must have really been saying the right things back then, because 10 years later Taylor Swift still hasn't gotten over a 3 month relationship, which shows she really wears her heart on her sleeve.
Hopefully pouring her hidden feelings out on 'All Too Well' brings her heart some closure. Will Jake Gyllenhaal respond to the 'All Too Well' lyrics?
Author: JordanThrilla Staff