There are pizzas that are cheesy, pizzas that are spicy, and pizzas that are meaty. But there is one pizza that is so extreme, it has been called the "pizza of death" by some internet users. The Swine Fighter Sicilian Pizza, created by Tony Boloney's Pizza in New Jersey, is a dish that will shock you with its ingredients and its preparation. You won't believe what goes into this pizza and how it is made. Read on to find out more about this controversial pizza that has divided the internet.
Why Social Media Believes The Swine Fighter Sicilian Pizza is the Most Unhealthy Pizza Ever Made
Imagine a pizza that is loaded with crispy pepperoni, cheese, and a sauce made from pork fat and used oil. The video, posted by Devour Power TV, a YouTube channel that features food adventures around the world, shows the process of making the Swine Fighter Sicilian Pizza.
The pizza starts with a thick crust that is topped with vodka sauce, dry aged and smoked mozzarella, and then covered with two giant pans of oily pork pepperoni. The excess oil from the pepperoni is then used to make a creamy ranch sauce, which is drizzled over the pizza. The result is a pizza that is literally soaked with the fat from the pepperoni.
The video has received thousands of comments, mostly expressing shock and disbelief at the amount of grease and calories in the pizza. Some users joked that the pizza should come with a warning label or a health insurance policy, while others said they would never eat it or even watch the video again. Some users, however, defended the pizza and said they would love to try it or that it looked delicious.
A pizza sauce made from pork fat and old oil is all kinds of disgusting to think about eating, but hey maybe it tastes good.

How much pepperoni does one pizza need?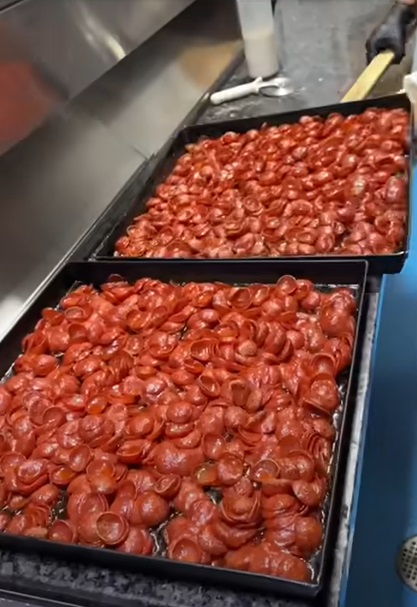 The Swine Fighter Sicilian Pizza is not the only outrageous creation by Tony Boloney's Pizza, a chain that has locations in Hoboken, Atlantic City, and Jersey City. The pizza shop is known for its inventive and over-the-top pizzas, such as the Taco Taco Taco, the Lobster Landing, and the Jewish Cowboy. The pizza shop also offers classes and kits for customers who want to make their own pizzas at home. They also have vegan pizza for people who don't eat meat.
The Swine Fighter Sicilian Pizza is not for the faint of heart (pun intended) or the health-conscious, but it is certainly a unique and memorable pizza experience. Whether you love it or hate it, you have to admit that it is a pizza that stands out from the crowd.