A woman who claimed to have discovered a Tinder cheat code for cheap traveling has gone viral on social media after her cousin leaked her texts. The woman, whose name and social media username are not known, allegedly used the dating app to match with men in different cities and countries, and exploited them for free food, tours, and accommodation.
How Did the Woman Discover the Tinder Cheat Code for Cheap Traveling?
According to the leaked texts, the woman had a strategy of swiping right on men she found unattractive, who were more likely to take her out, show her the city, and pay for her expenses. After ending a date with the men she found ugly, she would then use Tinder again to find men she found attractive, just to hook up with them, because she knew they would not be willing to spend money on her like the less attractive guys.
The woman claimed to have used this Tinder cheat code for cheap traveling to visit 14 cities in 6 countries, and she only spent $600 of her own money. She boasted about her exploits to her cousin, who goes by Mar Mathieuu aka @Mas___99 on Twitter. She decided to expose her by posting screenshots of their conversation on her account. She wasn't trying to disparage her cousin, rather she was bragging about how genius her strategy was.
The screenshots quickly went viral, sparking outrage and debate among social media users. Many men condemned the woman for taking advantage of men and using them as "human ATMs". They also argued that this is why men should not be vilified for sleeping around, because women are doing the same thing, but are more covert about it. Just imagine what social media reactions would be if a man was exposed for doing something like this.
Some women defended the woman, saying that she was smart and resourceful, and that she did not owe anything to the men she met on Tinder. They also pointed out that the men agreed to take her out and pay for her, and that they were not forced or coerced into doing so. However, some would argue they were coerced, because she was only dating them with the intention of using them for free travel expenses.
Take a look at the leaked text messages revealing the woman's tinder cheat code for cheap travel.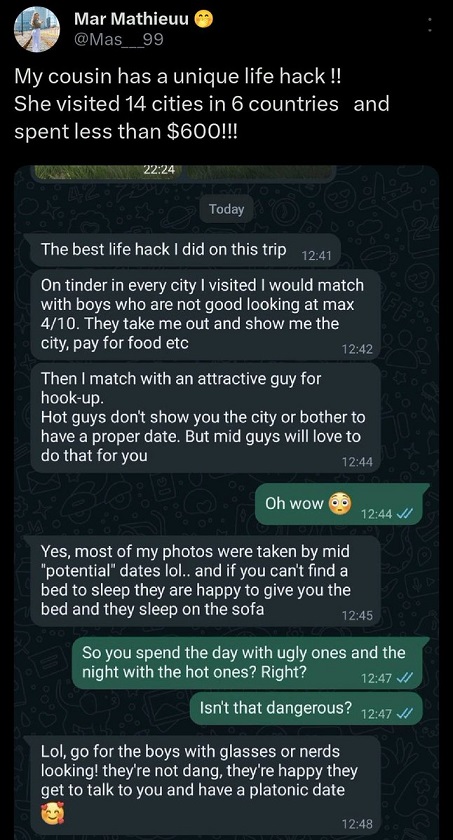 The woman has not responded to the controversy, and her identity remains unknown. It is unclear if she will continue to use her Tinder cheat code for cheap traveling, or if she will face any consequences for her actions.
With that said this should be a lesson to men and women to be very careful about the people they are meeting on dating websites. It would definitely hurt to find out you were used in a cheap travel scheme.