Does Alexandria Ocasio-Cortez have a big butt? When AOC is going viral it's usually either for something brave or bold she said, or a beef she has with a republican counterpart. The trend continued after she got into a heated altercation with reporter Alex Stein after he made some disrespectful remarks about her body as she was entering the Capitol Building. His comments have made people pay attention to the size of AOC's butt, and of course she isn't happy about being $exualized.
AOC's Butt Size Goes Viral After Reporter Alex Stein Calls Alexandria Ocasio-Cortez his 'Favorite Big Booty Latina'
This situation began when AOC posted a tweet detailing the horrific experience she had at the Capitol Building steps when she was met with heckling from reporter Alex Stein. As you'll see in the footage below Alexandria Ocasio-Cortez had on a tight dress that really showed her curves. She never expected it would bring national attention to her body, but her nightmare came true after Stein's remarks.
As she was walking up the Capitol Building steps reporter Alex Stein said AOC is his 'favorite big booty Latina'. After his comments he made sure the camera got a good view of her behind as she was about to walk through the Capitol Building door as he made more comments about how 'sexy' he felt she was. At one point Alexandria Ocasio-Cortez confronted him before the video ends.
In a statement about the ordeal AOC wrote, "I posted about a deeply disgusting incident that happened today on the Capitol steps, but took it down bc it's clearly someone seeking extremist fame. It's just a bummer to work in an institution that openly allowed this, but talking about it only invites more. Just really sad".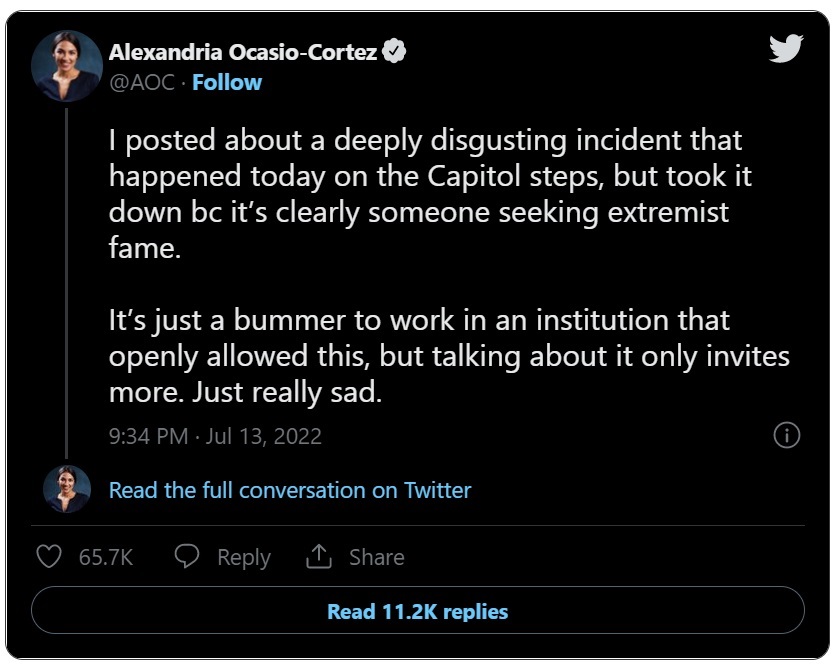 Due to the exposure Alex Stein is getting major backlash as expected, because his comments were uncalled for. However, the fallout from the situation is bringing Alexandria Ocasio-Cortez's butt size attention she never expected.
Who knows maybe she can capitalize on the situation, and use her butt size for profit like Kim Kardashian does. That will be truly one upping her enemies that were trying to embarrass her.