The old saying "Play stupid games, win stupid prizes" accurately describes the situation a Georgia man named Christopher Spaulding got himself into. For most people not being on a most wanted list despite committing crimes would be seen as a stroke of good luck, and good reason to lay low. However, for Mr. Spaulding it seems he felt he was being disrespected as crazy it sounds.
Details on How Christopher Spaulding Snitched on Himself After Seeing He Wasn't on a Most Wanted List
This strange case of self snitching began when Spaulding noticed that the Rockdale County Sherriff's posted a Top 10 "Most Wanted" list on Facebook that didn't include his name on it. Yearning to be validated as a true criminal Spaulding commented on the post saying "How about me". Not too long after police responded to his post explaining that he should have been on the list, and that they were on the way to arrest him for two felony warrants.
A few hours later Christopher Spaulding was arrested by Georgia police, and they even thanked him for snitching on himself saying, "We appreciate you for your assistance in your capture! Special thanks to our Fugitive Unit for being active, and efficiently apprehending Mr. Spaulding who has two warrants for Felony Violation of Probation". In addition they explained to Spaulding that he wasn't on the list, because their top 10 is based off the severity of charges.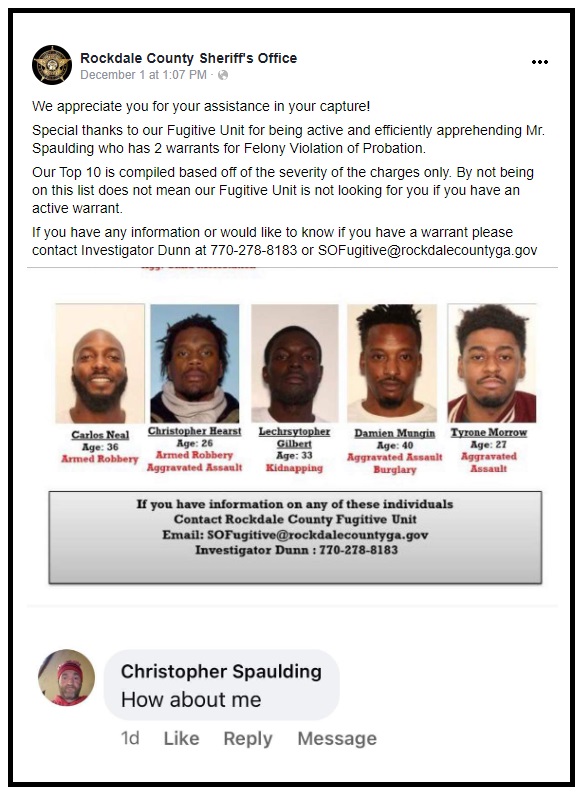 This could possibly be one of the dumbest cases of self snitching ever seen. Imagine feeling some type of way about not being on a most wanted list when you have felony warrants for your arrest.
Now instead of enjoying freedom Mr. Spaulding is spending time in a jail cell by his own doing.