MBC News, one of the leading broadcasters in South Korea, has recently made headlines for its innovative approach to delivering the news. Instead of using a green screen to create a virtual background, the news team decided to film on top of a skyscraper in downtown Seoul, giving viewers a stunning panoramic view of the city.
The idea came from Kim Hyun-woo, the director of MBC News, who wanted to showcase the beauty and dynamism of Seoul as well as enhance the credibility and professionalism of the news program. He said that filming on a skyscraper was more challenging and expensive than using a green screen, but it was worth it for the visual impact and the positive feedback from the audience.
The skyscraper that MBC News chose was the Lotte World Tower, the tallest building in South Korea and the fifth tallest in the world. The tower stands at 555 meters (1,821 feet) and has 123 floors. The news team set up their studio on the 118th floor, which has an observation deck with floor-to-ceiling windows that offer a 360-degree view of Seoul.
The news team had to overcome several technical and logistical difficulties to film on the skyscraper. They had to install special cameras, lights and microphones that could withstand strong winds and low temperatures. They also had to coordinate with the tower management and security staff to ensure a smooth operation. They had to arrive at least two hours before each broadcast to prepare the equipment and check the weather conditions.
The result was a spectacular display of Seoul's skyline, featuring landmarks such as the Namsan Tower, the Han River and the Olympic Stadium. The viewers were impressed by the realistic and immersive background, which changed according to the time of day and weather. Some viewers even commented that they felt like they were flying over Seoul with the news anchors.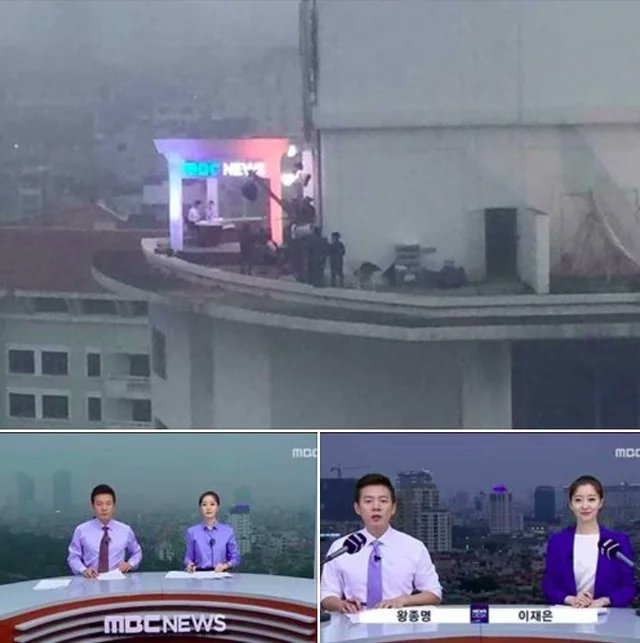 MBC News said that filming on the skyscraper was not a one-time stunt, but a regular feature of their news program. They said that they planned to film on different skyscrapers around the world in the future, such as the Burj Khalifa in Dubai, the Merdeka 118 in Malaysia, and the Shanghai Tower in China. They said that they hoped to bring more diversity and excitement to their news coverage and inspire their viewers with their innovative spirit.