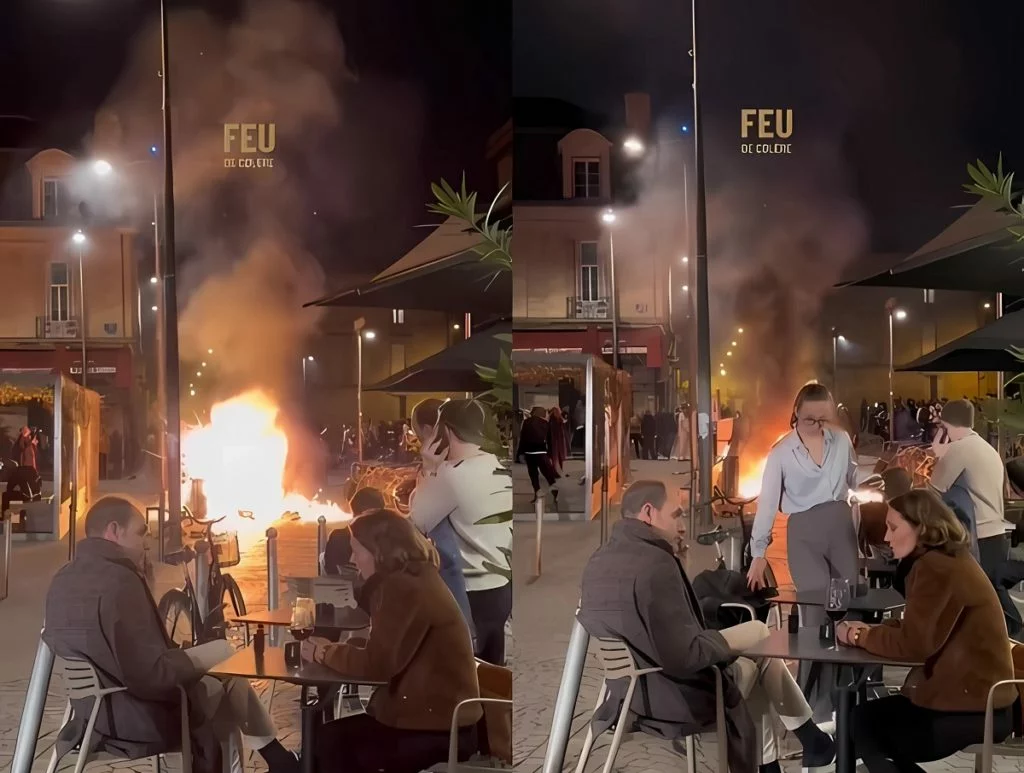 If you've been on social media lately, you might have seen a viral video that shows a group of people calmly eating at a restaurant in France while a massive fire is burning and exploding right beside them. The video, which was allegedly filmed by a journalist and posted on Twitter on March 23 by Twitter user @flitzpiepe0815, has been viewed more than 10 million times and has sparked countless memes and jokes.
French Diners Eating Amid a Fiery Protest Fueled a Real Life "This is Fine" Meme Trend
The fire was caused by protesters who set fire to a newsstand and other objects near the Place de la Concorde in Paris, where thousands of people had gathered to oppose President Emmanuel Macron's controversial pension reform bill. The bill, which was forced through parliament without a vote, raises the retirement age from 62 to 64 and requires workers to contribute more to the pension system.
Many people online were amazed by the apparent indifference of the diners, who seemed unfazed by the chaos and danger around them. Some compared them to the famous "This is Fine" meme, which shows a cartoon dog from Green's 'Gunshow' comic series 'On Fire' drinking coffee in a room engulfed by flames. Others joked that the scene was typical of French culture, where food and wine are more important than anything else.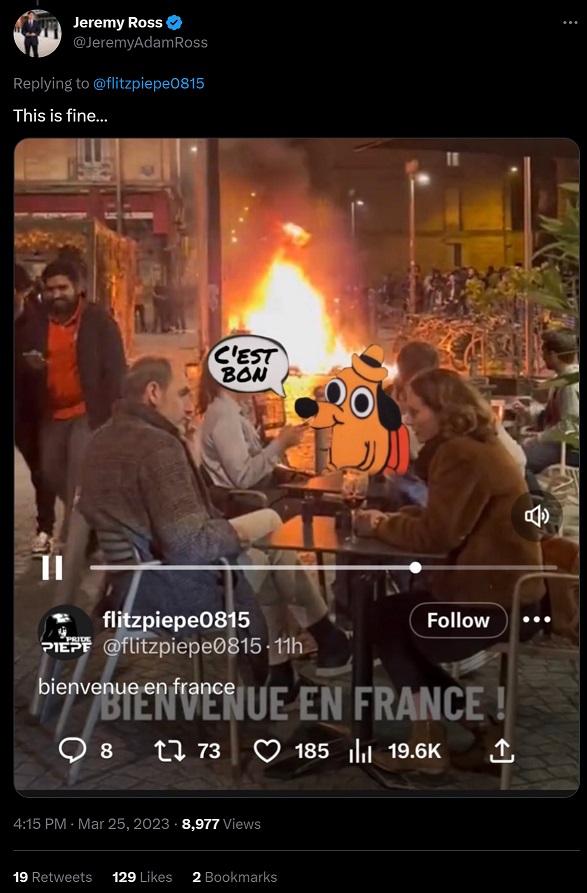 The video also sparked some serious discussions about the political situation in France, where Macron has faced widespread opposition and criticism for his reforms and handling of the Covid-19 pandemic. Some commentators praised the diners for their resilience and defiance in the face of violence and repression. Others criticized them for their apathy and privilege, arguing that they were ignoring the plight of the workers and the poor.
The video also raised questions about the role of social media and journalism in covering protests and social movements. Some people accused the journalist who filmed the video of sensationalizing and trivializing the protest, while others defended him for capturing a striking contrast and a human interest story.
The viral video of French diners eating amid a fiery protest is an example of how social media can amplify and transform an event into a meme phenomenon. It also shows how different people can interpret and react to the same situation in different ways, depending on their perspective and context.