A picture of DaBaby wearing a diaper under his white crop top t-shirt is going viral on social media. The picture claims to be the original uncropped version of DaBaby's album cover where he poses with finger guns pointed at his head. According to some online sources, DaBaby tried to have the picture scrubbed off the internet, but it resurfaced recently and sparked a lot of reactions.
The allegations of DaBaby trying to hide the picture are strange considering that he wore a diaper in public some years ago. In 2017, DaBaby showed up at the SXSW Festival in Austin, Texas wearing nothing but a diaper, a towel on his head and a pair of Jordans.
He said it was a genius marketing scheme to get attention and to transition from his previous name, Baby Jesus, to DaBaby. However, it may have been the fact that he was wearing a crop top t-shirt in the leaked photo that allegedly made it embarrassing for him. DaBaby has not commented on the viral picture yet, but some fans think it is fake or photoshopped.
To many people DaBaby sitting in a chair posing for a photo while wearing a diaper and crop top, seems worse than actually wearing one out in public with no shirt on. All things considered the picture looks very real, but you never know these days. Some people joked that he should change his name to Diaper Baby, DaDiaper, DaCropTop.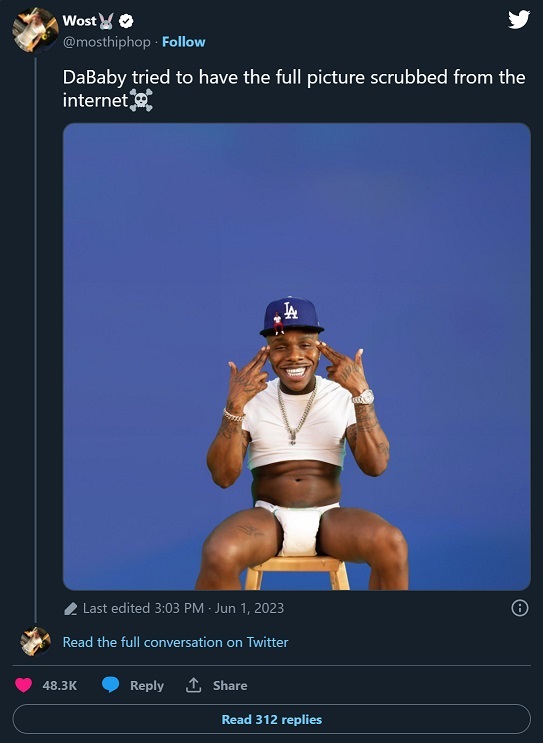 DaBaby is known for his controversial antics and his confident attitude. He has been involved in several legal issues and feuds with other artists. His career has been on a downward spiral ever since his outburst against people in LGBTQ community. Whether the diaper picture is real or not, it is unlikely that it will affect his popularity.