Remember the time when nicknames like "Marsh-Melo" used to hold weight when talking about Carmelo? Those days are over because Skinny Carmelo Anthony with a Kobe afro arrived at Orlando Bubble. Some people say Skinny Melo is so different, they're not even sure if it's really still Carmelo. Take a look at Skinny Melo with the Kobe fro not missing a single shot doing a tough shooting drill.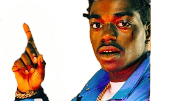 When Damian Lillard said he was only coming to Orlando if he had a real chance to make the playoffs, Carmelo likely took note and used that as motivation. Now he looks to be in the best shape of his NBA career with the mindset of mamba mentality, which is 150% focus. Carmelo was a known Kobe stan so it's not far fetched the afro look is meant to pay homage.
If Skinny Carmelo Anthony can play like prime Hoodie Melo or Denver Melo, Trailblazers have a real chance to make the playoffs. After all Melo seems to play best at rec centers, which is basically the environment of every NBA game now. It will still be a very tough task to accomplish though.
Author: JordanThrilla