Kawhi Leonard is known for many things: his two-time NBA championship rings, his stoic demeanor, his robotic laugh, and his massive hands. The Los Angeles Clippers star has some of the largest hands in the league, measuring 9.75 inches in length and 11.25 inches in width. To put that in perspective, his hand span is almost as wide as a standard NBA basketball, which has a diameter of 9.5 inches.
But how big are Kawhi's hands compared to an iPhone 14 Pro Max, the latest and largest smartphone from Apple? Well, a video of him arriving for Game 2 of the Clippers vs Suns first round playoff matchup is going viral, because of how small it looked in his hands. The video shows Kawhi holding the phone with just the tips of his fingers, making it look like a kid's toy or a miniature replica.
The iPhone 14 Pro Max has a 6.7-inch display, which is bigger than any previous iPhone model. It also has a sleek design, a powerful processor, a triple-camera system, and a long-lasting battery. None of that matters when Kawhi's hands dwarf the device, and make it seem insignificant. It would be surprising if he doesn't run into trouble when trying to type on the keyboard considering how big his finger tips are.
This is not the first time Kawhi's hands have made headlines. In fact, his hands are one of his biggest assets on the court, as they allow him to grip the ball better, palm it easier, and control it more. His hands also help him on defense, as he can disrupt passing lanes, poke the ball away, and block shots with ease.
One of the most memorable examples of Kawhi's handiwork was in the 2020 NBA playoffs at the bubble, when he blocked Jamal Murray's dunk attempt with just one finger. Kawhi timed his jump perfectly and extended his right hand to meet Murray at the rim. He then used his middle finger to reject the shot and send it back. It was one of the most impressive blocks in recent history, and it showcased Kawhi's hand strength and coordination. For most people that would have been a broken finger.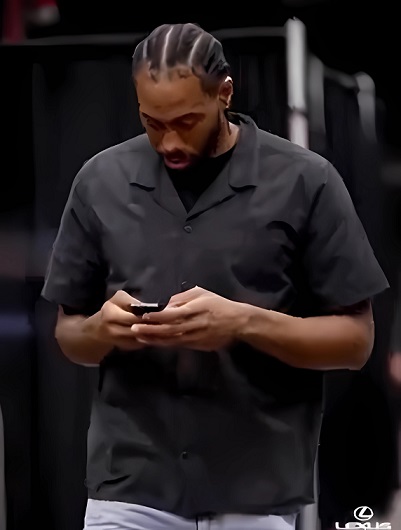 Does Kawhi Leonard Have the Largest Hands in the NBA?
Even though Kawhi's hands make the iPhone 14 Pro Max look small, they still pale in comparison to Boban Marjanovic's hands. Boban is a 7-foot-4 center, and he has the largest hands in the NBA. His hands measure 10.75 inches in length and 12 inches in width, which means they are bigger than Kawhi's by an inch in both dimensions.
Boban's hands are so big that he uses an iPad as a cellphone. A video once surfaced of him holding an iPad to his ear like a phone, and it looked normal-sized in his hands. He also once allegedly held two basketballs in one hand, and made them look like oranges. Boban's hands are truly enormous, and make everything else look tiny.
Maybe Apple should consider making a special edition iPhone for people with large hands, but then again that would just be an iPad mini right?