Stephen A. Smith is a well-known sports commentator and host of The Stephen A. Smith Show on YouTube and First Take on ESPN. Recently, his muscular arms have been the talk of social media after his latest podcast where he discussed the rumors of Shannon Sharpe joining First Take.
Why are Stephen A Smith's Arms Going Viral?
In the video, Stephen A. Smith was wearing a sleeveless Under Armour that revealed his arms profile on the internet for the first time in a long time. People were surprised to see how ripped his arms were at his old age, and the YouTube comment section of the video was flooded with people talking about it.
Stephen A. Smith Revealed He is Pre Diabetic While Responding to Shaq Roasting His Arms
Shaquille O'Neal, former NBA player and current sports analyst who loves donating money to the less fortunate, caught wind of the situation and roasted Stephen A. Smith for trying to show off his arms. In an IG post Shaq told Smith "if you don't put those little arms away". In a response video on The Stephen A. Smith Show, Smith gives his take on the situation and responds to Shaq's comments.
He explains that he recently found that he is prediabetic, which served as a health wake up call for him. Smith claims he has been working out for a while now, started a paleo diet, gave up red meat, has lost 20 pounds, and is proud of his progress. His muscular arms are the result of his new fitness regimen.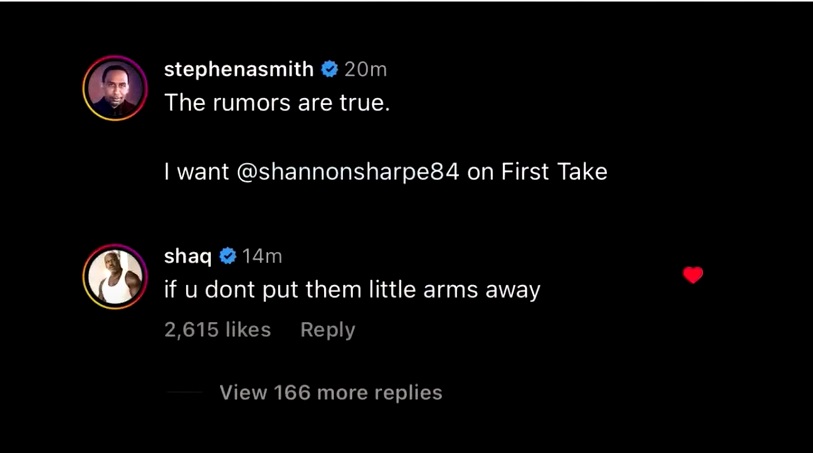 This is not the first time Shaq has roasted Stephen A. Smith. In the past, Shaq has trolled Stephen A. Smith's hairline, as he and Charles Barkley compared it Derrick White's hairline during the NBA playoffs. Smith would respond to that the next day claiming he would get his revenge on them. That has yet to happen.
Stephen A. Smith Once Injured His Muscular Arm
In 2019, Stephen A. Smith was seen wearing a sling on his arm, which led to speculation about what had happened. Smith took to Twitter to explain that he had injured his arm while covering a boxing match. He admitted that he had been careless, and that the injury was his own fault. Since then it appears he was in the gym building those arm muscles so it doesn't happen again.
In addition to his arms, Smith has been making headlines for his memoir "Straight Shooter: A Memoir of Second Chances and First Takes" and his support for Michael Irvin despite the allegations he faced during the Super Bowl.