Jonathan Majors, the star of Marvel's Ant-Man and the Wasp: Quantumania and , is facing more allegations of abuse from multiple victims who have come forward to cooperate with the Manhattan District Attorney's office, according to a report by Variety.
Is Jonathan Majors a Habitual Abuser?
The report claims that multiple women have contacted the DA's office to share their stories presumably of physical or emotional abuse by Majors, who was arrested in March for allegedly choking his girlfriend during a domestic dispute in New York. The woman was reportedly taken to a hospital with minor injuries to her head and neck. She later recanted her accusations, but with more women coming forward, people are wondering if game if she was coerced into doing so.
Majors' legal team, led by attorney Priya Chaudhry, still maintains his innocence. However, the fact that multiple abuse victims are coming forward could be why Majors' talent manager and PR Agency, Entertainment 300, recently dropped him from their roster. The company did not give a reason for their decision, but considering they chose not represent him during a time when he would have needed them most, it was clear something big was about come out. Today that happened with the news of more alleged abuse victims from his past.
Majors' career was on the rise since his breakout role in HBO's Lovecraft Country, which earned him an Emmy nomination for best actor in a drama series. He also starred in Netflix's The Harder They Fall and Spike Lee's Da 5 Bloods. He was slated to prominently feature in 2025's Avengers: The Kang Dynasty and 2026's Avengers: Secret Wars, which probably won't be happening now. His future projects and career are in limbo due to the legal troubles, and the public backlash he is facing.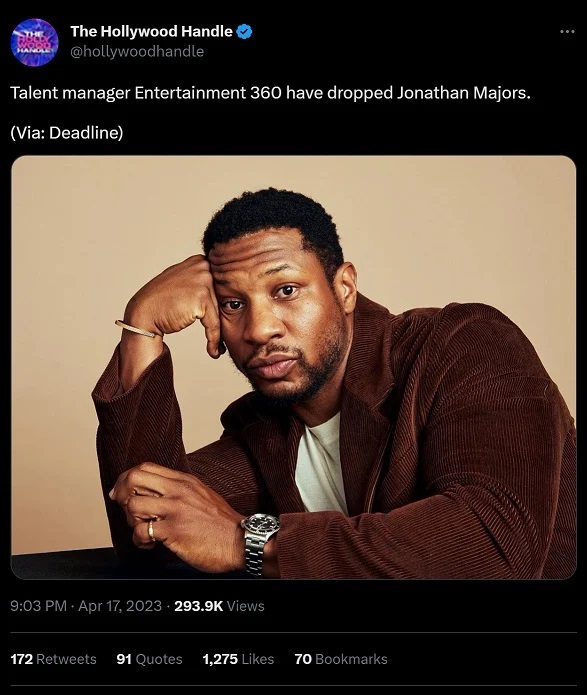 If he is one day proven innocent will he be able to repair all the bridges that have been burned? Would he even want to work with the same people who quickly turn their back on him? Hopefully these are questions that get answered, because if they don't it would mean he really abused all these women in some way, which would be too sad.