The Illuminati conspiracy theory has been around for decades, but it became more prominent after Doja Cat threw an "Eyes Wide Shut" themed birthday party. The Stanley Kubrick movie, which was released in the 90s, focused on an Elite Society that had a lot of similarities to the Illuminati. Curiously, Stanley Kubrick was mysteriously murdered shortly after completing the movie.
The Evidence Behind the Conspiracy Theory Doja Cat Joined the Illuminati's Purple Eye Society Club
Doja Cat's birthday cake raised eyebrows with its design featuring a number of Illuminati symbols like the all-seeing eye. Some people believe that Doja Cat's strange behavior and her decision to shave her hair are also signs that she may have joined the secret society.
Speculation that Doja Cat has joined the Purple Society Club branch of the Illuminati further increased when she was spotted with purple paint around her eye only a few days after the party. Some people think Doja Cat had a black eye, and was just covering it up. Interestingly, there is evidence of other celebrities having this purple eye as well, which also looks like a black eye. This fuels the conspiracy theory that it might be related to an Illuminati ritual. Also not too long ago Kanye West basically admitted that the Illuminati is a real thing in Hollywood.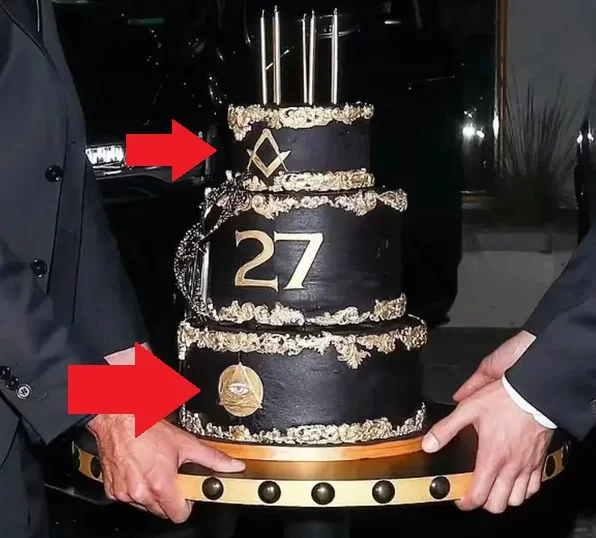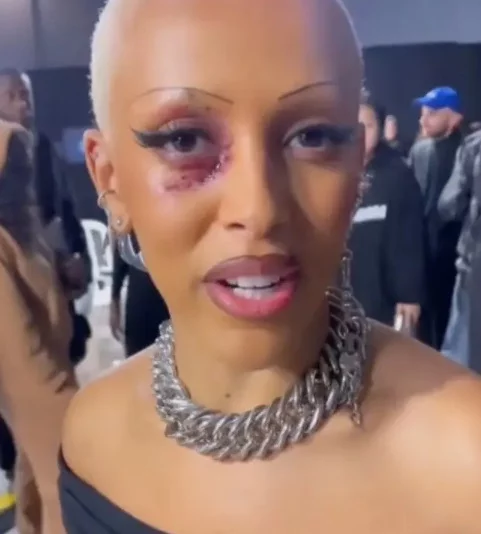 The pictures below show that celebrities seem to always have purple eyes for one reason or another, which conspiracy theorists believe is evidence of the Illuminati's Purple Eye Club. Essentially they believe it might be a right of passage, which involves taking physical punishment in the form of a punch to the eye.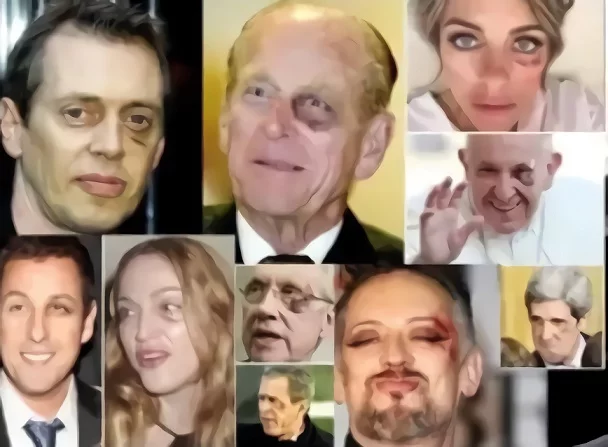 As you can see in one of the photos above Kanye had a purple eye at one point. Now take a listen to footage below where Kanye West claimed his mother was sacrificed by the Illuminati.
Doja Cat Reacts to Illuminati Purple Eye Club Conspiracy Theory Allegations
Doja Cat has denied being a part of the Illuminati by posting a message on Twitter saying, "This Illuminati s*** is so funny to me I'm gonna keep doing deliberate weird a** s*** just to make those people uncomfortable. I've for real found a new outlet of joy". However, conspiracy theorists do not believe her statement, because one of the alleged rules of being a member of the satanic society is to never admit you are actually a member. The theory is that by having no concrete proof of existence the Illuminati avoids prosecution.
What is the Purple Eye Society Club?
Conspiracy theorists believe that the Illuminati's Purple Eye Club is a powerful and secretive network of the wealthy individuals from government, business, religious, and entertainment sectors whom they deem will be most influential in helping them control the world's population through different forms of mind control. They believe that this secret society is working to manipulate public opinion and opinion makers, to orchestrate wars, and to secretly control the flow of information.
The Purple Eye society is said to be one of the oldest and most powerful secret societies in the world, and is believed to be influenced by an ancient order. The society is thought to be highly secretive and operate in the shadows, rarely making its presence known, which is aforementioned is why people don't believe Doja Cat's reaction to the allegations.
It is still uncertain if Doja Cat is a part of the Illuminati. One thing is clear though: the debate around this conspiracy theory is still going strong. From the mysterious symbols associated with the birthday party to the alleged secrets that Doja Cat has kept hidden, the questions surrounding the Purple Eye Society will continue to fascinate the public.