Something strange is going on with the greatest quarterback of all time, and even he can't explain it. During a recent press conference interview before is upcoming return to Boston, Tom Brady looked and sounded very different. The reason why has led to a conspiracy theory of Tom Brady having adverse side effects from the COVID vaccine.
Did COVID-19 Vaccine Make Tom Brady Sick?
Tom Brady has been suffering from an unexplained medical condition over the past few months, that coincides with the time line of when he got vaccinated. Tom Brady says he has been dealing with on and off rasp in his voice and throat weakness over the past few months, and he still can't figure what is causing it.
During his recent interview the fully vaccinated Tom Brady said this about his strange medical condition,
"I don't know. I've had a few of these days. I don't know what the deal is, so I got to try to figure this out. My throat is more tired than my arm, imagine that. Very strange. Something must be a little…, I can't explain it".
Is COVID-19 Vaccine Causing Tom Brady's Unexplained Medical Throat Condition?
Tom Brady got vaccinated some months ago after previously being very skeptical about the COVID Vaccine. His vaccination status was revealed when Bruce Arians talked about Buccaneers being 100% vaccinated, and said Tom Brady had been vaccinated for a while. It was on September 2nd, that it was confirmed Tom Brady was vaccinated for some time before that date.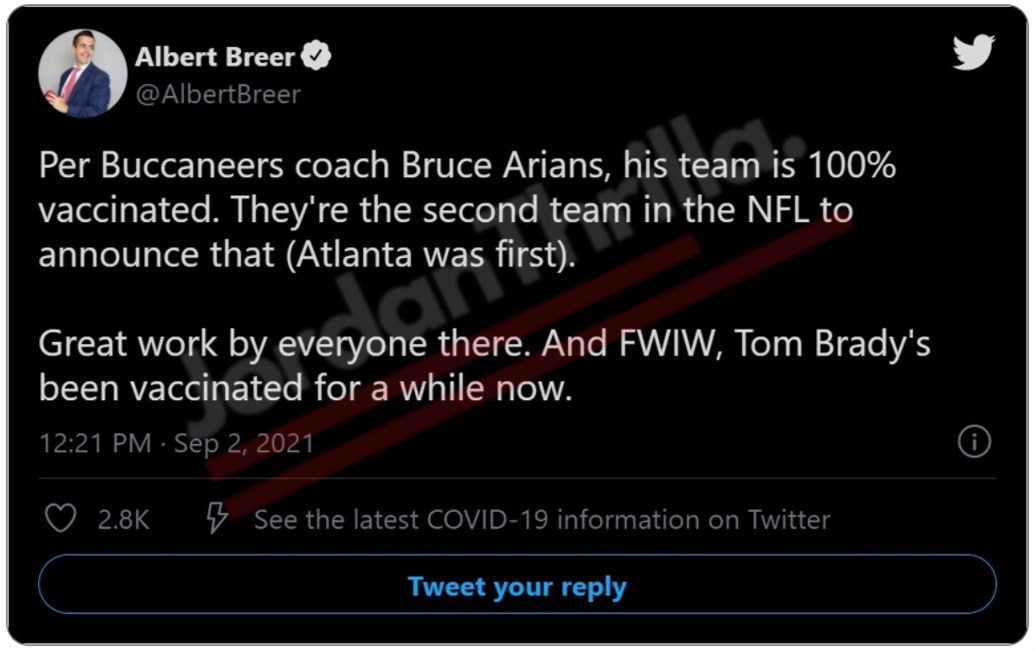 Considering what he has been going through over the past few months, could an adverse side effect COVID-19 vaccine be causing Tom Brady's medical throat condition? Why is his throat weaker than his arm? Why did it start happening within the same time span as him getting vaccinated?
If COVID-19 vaccine is making Tom Brady sick, it could be similar to what Tennis superstar Jeremy Chardy is going through, albeit to a lesser extent. Jeremy Chardy had to end his season after getting COVID vaccine claiming it gave him unexplained pains in his entire body. He is one of the first athletes to publicly state that he regretted getting the COVID-19 vaccine, due to the alleged impact it caused on his health.
Hopefully Tom Brady will be okay, but all things point to him playing through his unexplained throat ailment, so Bucs fans shouldn't be too scared at the moment.
Author: JordanThrilla Staff