Sean Combs, better known as P Diddy, is no longer the face of Ciroc vodka and DeLeón tequila. The rapper and entrepreneur was fired by Diageo, the world's largest spirits company, after he filed a lawsuit against them for racial discrimination and unfair promotion of their liquor brands.
Why Does P Diddy Think Diageo is Racist?
According to the lawsuit, Combs claims that Diageo breached their contract by failing to pay him royalties and bonuses for his role as a brand ambassador and co-owner of Ciroc and DeLeón. He also alleges that Diageo discriminated against him and other Black-owned liquor brands by favoring white-owned ones, such as Casamigos tequila and Aviation gin.
Combs says that he helped Ciroc grow from a struggling brand to a global leader in the vodka market, generating over $2 billion in sales for Diageo. He also says that he invested millions of dollars in DeLeón, a premium tequila brand that he acquired with Diageo in 2014. However, he claims that Diageo did not support his efforts to market and distribute the brands, and instead focused on promoting their white-owned competitors.
Diageo denies the allegations and has asked the New York Supreme Court to dismiss the lawsuit. The company says that Combs was paid fairly and generously for his services, and that he failed to fulfill his obligations as a partner.
Diageo also claims that it has a strong track record of supporting diversity and inclusion in the spirits industry, and that it respects Combs' contributions to Ciroc and DeLeón. However, many people feel that P Diddy getting fired from Ciroc is proof that his claims about them being racist might be valid.
P Diddy aka Sean Combs Allegedly Deleted All Ciroc Posts From His Instagram
The news of Combs' firing came as a shock to many fans and followers of the rapper, who is known for his lavish lifestyle and frequent references to Ciroc in his songs and social media posts. Combs has since deleted all Ciroc-related posts from his Instagram account, where he has over 20 million followers.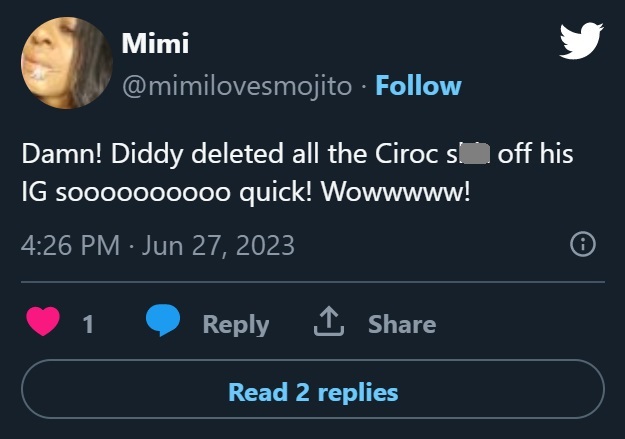 The dispute between Combs and Diageo is the latest in a series of controversies involving celebrities and liquor brands. In recent years, several stars have launched or partnered with spirits companies, hoping to cash in on the booming demand for premium drinks. However, some of these ventures have faced legal challenges, regulatory hurdles, or public backlash.
For example, George Clooney and Rande Gerber sold their Casamigos tequila brand to Diageo for $1 billion in 2017, but were sued by a Mexican company that claimed they stole their name and logo.
Ryan Reynolds sold his Aviation gin brand to Diageo for $610 million in 2020, but faced criticism for featuring a controversial actress in an ad campaign.
And Nick Jonas and John Varvatos launched their Villa One tequila brand in 2019, but were accused of cultural appropriation by some Mexican activists.
P Diddy is one of the greatest business men ever, so there's no doubt he already thinking of way to bounce back in the realm of premium alcoholic beverages.