Gang of Chickens Jump Hawk That Invaded Their Hen House in Viral Video.
Chickens beat up a Hawk that tried to invade their hen house, literally leaving the Hawk with a look of shock on it's face. The Hawk can be seen flying around the Hen House as the Gang of ruthless Chickens continue to jump him.
Chickens rushed a hawk that invaded the hen house 🤣🤣🤣🤣 "if gang pull up…." pic.twitter.com/35Q9lGiLFj

— mauricio pocketinno (@yxnnck) February 24, 2020
The incident brought back memories of the Chickenhawk wanting to fight the Chicken Foghorn Leghorn on that cartoon back in the day. In this case however, the chicken got the upper hand.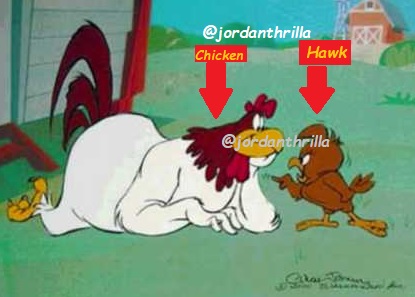 Luckily for the Hawk the Hen House owner came to his rescue, but put his face on the summer jam screen to show the world how scared it was from the beat down.
The Hawk learned a tough lesson. It got way more than it bargained for when it entered the hen house without checking in first. Hopefully this is the last time the Hawk tries trespassing, a Hen House owner might not be so nice next time.
Lets also hope the chickens learn to be a little less aggressive when it comes to protecting their home. The was surely room for one more chicken in there, so the hawk just hanging out shouldn't of warranted him being jumped.
Chickens already have enough enemies as is, with them being a staple of the average human diet, no need to make friendly hawks your enemy too.
Author: JordanThrilla