Why are Joker Karen Memes and Hashtag #JokerKaren are Taking Over Social Media Timelines?
If you are active on social media, you might have come across a new trend of drawing Joker as a Karen. The trend started after a Twitter user @gailsimone posted a tweet that said "Joker Karen wants to speak to Batman's supervisor". The tweet quickly went viral, with over 150,000 in a few hours.
But what is a Karen and why is it funny to imagine Joker as one? According to Urban Dictionary, a Karen is "a pejorative term for an entitled, obnoxious, middle-aged white woman. Especially as featured in memes, Karens are known for being demanding, rude and often racist. They usually complain about trivial matters, ask to speak to the manager or threaten to sue". The term has become widely used online to mock people who exhibit such behavior regardless of skin color.
The idea of Joker being a Karen is amusing because it contrasts his chaotic and anarchic personality with the petty and privileged attitude of a typical Karen. Joker is known for being a ruthless and unpredictable villain who terrorizes Gotham City with his twisted sense of humor and violence. He is the archenemy of Batman, the Dark Knight who fights for justice and order. To imagine Joker as a Karen who wants to speak to Batman's supervisor is to make fun of his evil and menacing nature by reducing him to a trivial and annoying nuisance.
The tweet by Gail Simone sparked a trend of people drawing their own versions of Joker Karen memes, using different styles and media. Some drew Joker Karen in comic book style, others in anime style, and some even in realistic style. Some added details like a Starbucks cup, a smartphone or a "Live Laugh Love" sign to emphasize her Karen-ness. Some also drew Batman's reaction to Joker Karen, ranging from confusion to annoyance to amusement. Take a look at the twitter thread that started it all, and some of the funniest meme art that resulted from it.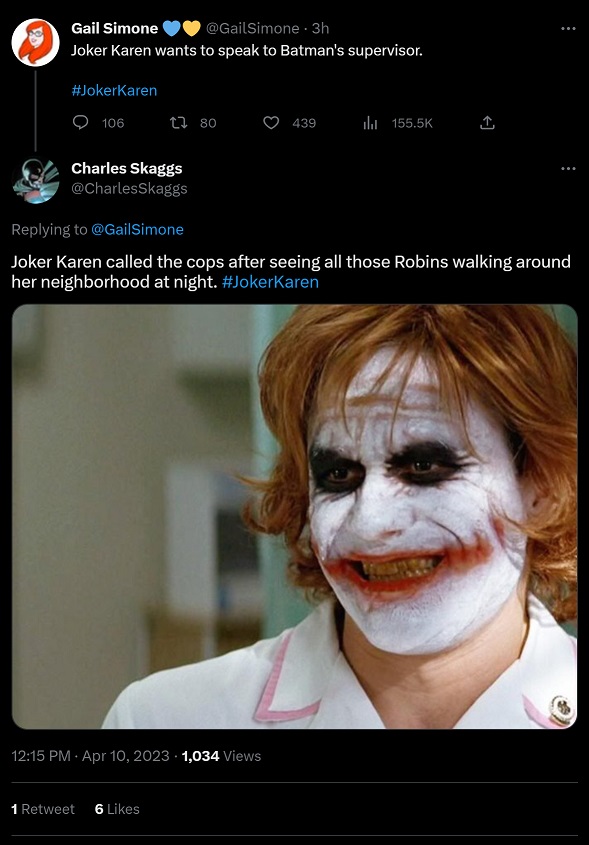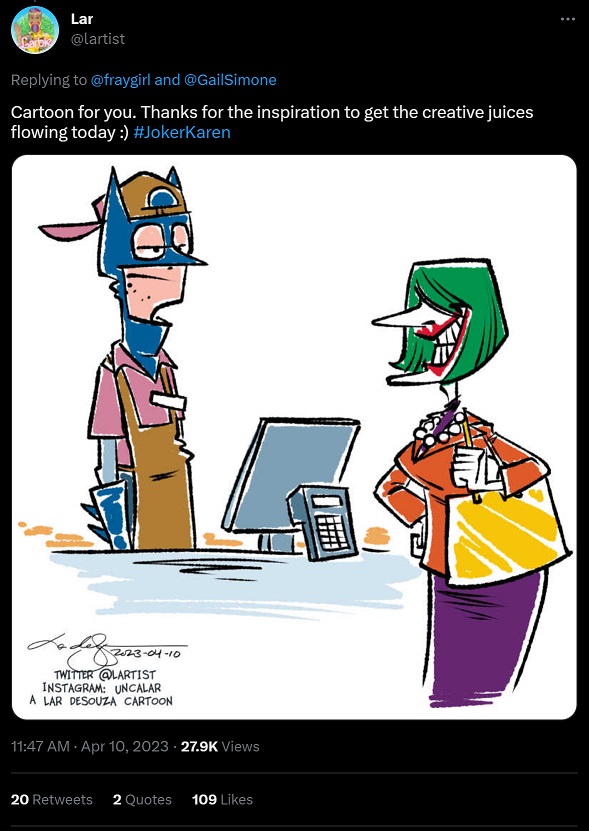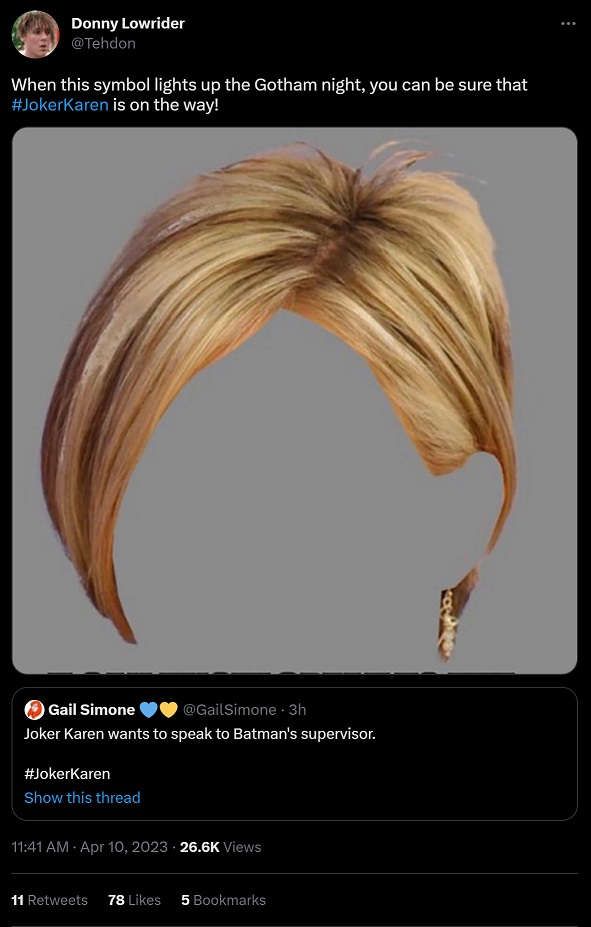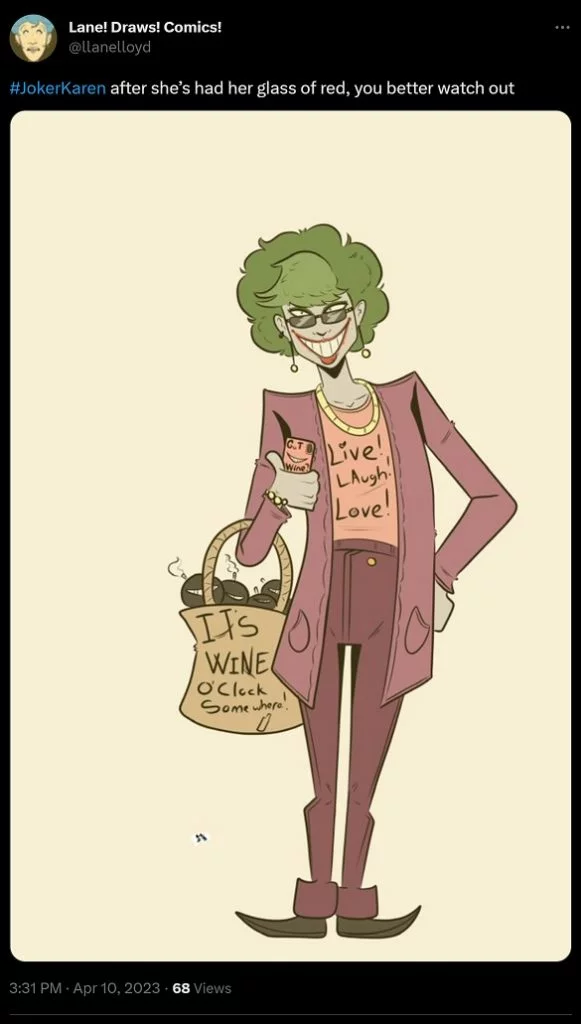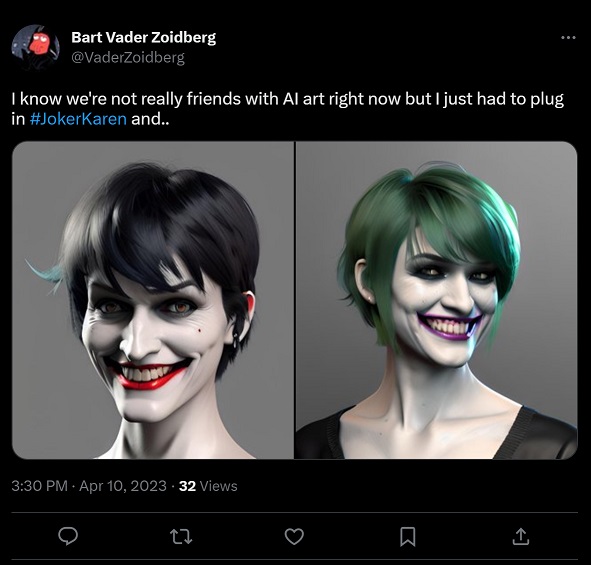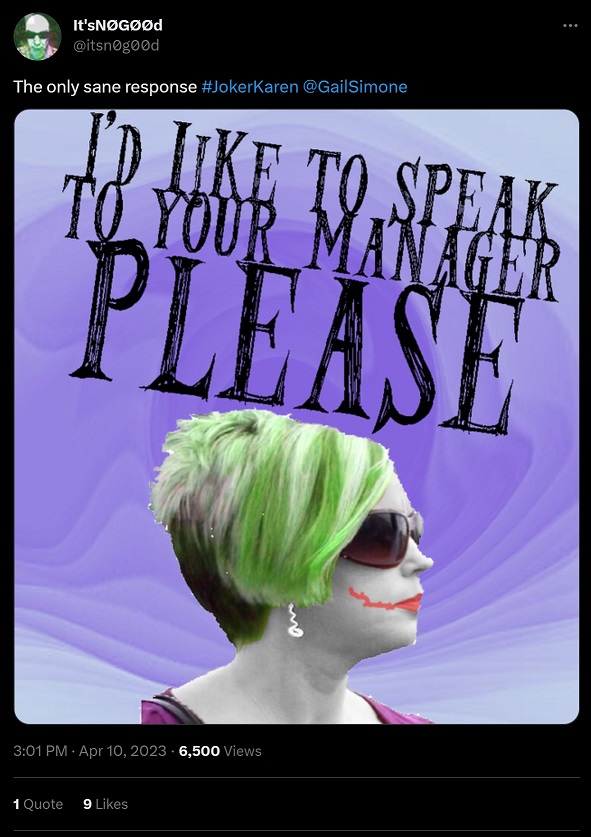 The trend has also spread to other platforms like Instagram, TikTok and Reddit, where people have shared their Joker Karen art and memes. Some have even cosplayed as Joker Karen, wearing wigs, makeup and costumes inspired by the original sketch. The trend has also attracted the attention of some celebrities and artists who have joined in the fun.
The #JokerKaren trend is an example of how social media can inspire creativity and humor among people who share a common interest or fandom. It also shows how people can use memes and art to poke fun at stereotypes and social issues in a lighthearted way.
The trend is likely to continue for a while, as more people discover it and join in the fun. Who knows, maybe one day we will see Joker Karen on the big screen or in a comic book. Until then, we can enjoy the hilarious sketches and memes that people have created online.