Is Michael Jackson alive? A conspiracy theory that Michael Jackson is not dead is catching steam for the strangest reason. It all started when an IG user posted a DM they got from Michael Jackson, or someone pretending to be him.
In this message Michael Jackson claimed he is hiding in another country, and has run out of money. He asked the person Cash App him $600 so he can return to the US and release more music.
Is this a Cash App Michael Jackson scam, or is he trying to reveal himself to the world once again?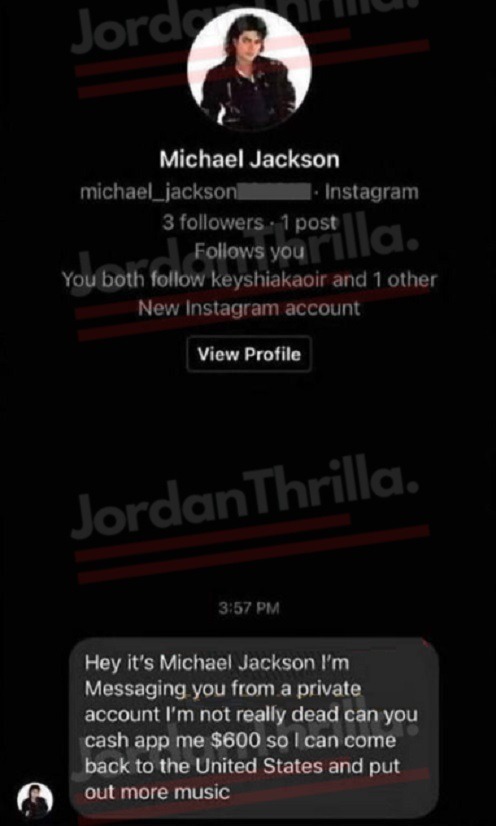 With these Instagram DMs from Michael Jackson asking for Cash App money fueling conspiracy theories that he still alive, people are remembering this old Larry King Interview where a man named "Dave Dave" seem to sound just like Michael Jackson and have all his mannerisms too. He claimed to be a longtime friend of Michael Jackson that had all his medical expenses covered to have reconstructive surgery after an alleged accident. Till this day some people still believe the man in this video is Michael Jackson taking on a new identity to live a more private life.
On the surface it looks like Cash App scammers are using Michael Jackson's identity to trick people into sending money, but in the Hollywood world you really never know. Until there is more evidence, the conspiracy theory that Michael Jackson is alive will continue to be just an unproven theory. It would be wonderful to know Michael Jackson isn't dead though.
Author: JordanThrilla Staff