The Weather Channel and racism are two things that most people thought would never mix. After all how could a news station that talks about weather all day be involved in racial controversy? That all changed recently when the craziest thing happened during their live telecast.
Is The Weather Channel Racist? The Weather Channel Posts N-Word Racial Slur on Live TV in Viral 'Mistake'
Recently The Weather Channel was airing their normal 'Locals on the 8s' segment for their Des Moines Iowa audience, when the unthinkable happened. Across the TV screen a message was posted saying, "Hello Des Moines, this is your weather my n******".
The Weather Channel posted the N-word racial slur using the 'er' at the end, which is the spelling used when you want the word to have racist context.
Of course this is too crazy to believe, so you need to see it for yourself.

In a public statement The Weather Channel admitted posting the racist remark, but claims it was an 'accident' according to Matthew Keys.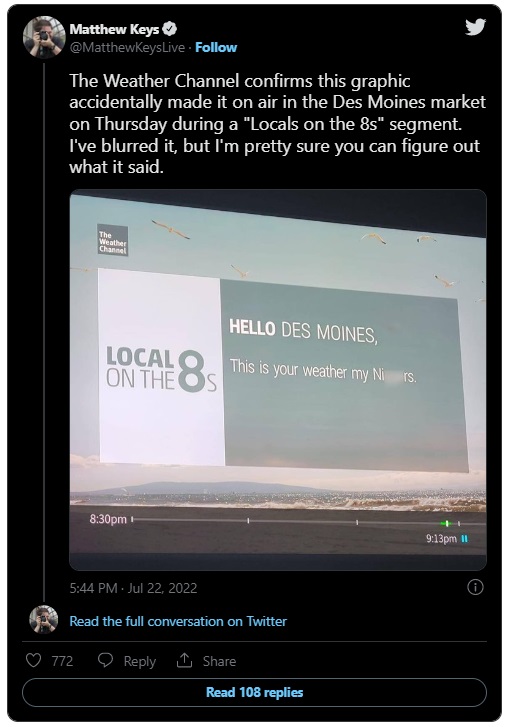 Naturally it was expected that The Weather Channel would say the racial slur was a mistake, but some people are doubtful about the truth behind their claim.
Some people believe this could be the work of a racist employee working for The Weather Channel who purposely posted the message on air during their live telecast knowing that millions would see it. It doesn't help that Iowa is known as one of the most racist states in America. 2022 just keeps getting crazier and crazier.