At no point did anyone ever expect a "virtual fist bump" to become a part of NBA history books, but that's exactly what happened. Jimmy Butler virtual fist bumped Dwyane Wade during Game 2 of Bucks vs Heat. In doing so, Jimmy Butler became the first player in NBA history to do a virtual fist bump.
Dwyane Wade looked frozen only because those virtual crowds seem to lag a lot on Live TV.
Take a look at the super historical moment.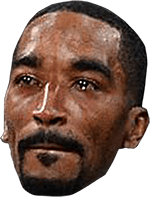 It's amazing how far technology has come to make something like this possible. It looks like a scene from a sci-fi movie being acted out in real life. With Dwyane Wade's colorful hair you could say it looks like a scene from the Fifth Element.
There's almost no way Jimmy Butler can lose after virtual fist bumping Dwayne Wade and making history. He is in a must win situation in Game 2. Will he prevail?
Author: JordanThrilla