This offseason Lakers thought they struck gold when they comprised a roster that included Lebron James, Dwight Howard, Carmelo Anthony, Anthony Davis, Russell Westbrook, and Kendrick Nunn. If you do math that's 5 future hall of famers, and a guy that was one Heat's best players seasons prior. Things didn't go as expected with AD getting injured every few weeks, Russell Westbrook forgetting how to make layups and jumpers consistently, Kendrick Nunn suffering the worse bone bruise ever in his knee, and Dwight Howard regressing even more. The only real consistencies ended up being Lebron, Carmelo, and Malik Monk.
'The Lakers Stink' Video Tweet with A-ha 'Take on Me' Remix and THT's Braids Go Viral as People Roast Lakers Missing Playoffs and Play-In
Just a few days ago Lakers were tied with Spurs for the 10th seed, and looked to be on pace to sneak into a play-in spot. Since then Lakers have lost 6 games in a row, Lebron injured his ankle, and now they find themselves 2 games behind the Spurs who also own the tiebreaker. Essentially it's most likely that Lakers will miss the playoffs and Play-in. Who would have guessed that Charles Barkley's prediction might actually be right this time.
Before the season Lebron James was talking that talk when people were calling the Lakers old and washed up. He told people doubting his squad to "keep that same energy" when the season started. Well the season is almost over, and ironically it was LeBron that couldn't keep that same energy inn terms of leading his team to wins. Just about all the problems people predicted Lakers would have came to fruition. They looked old, slow, and couldn't defend their own shadows on the court.
Naturally social media is now roasting the Lakers due to the unprecedented situation they find themselves in. One of the funniest jokes was a @Go"The Lakers Stink" tweet video that remixed A-ha's "Take on Me" song with a montage of all the L's Lakers took this season. Talen Horton-Tucker's braids also got roasted for being far back due to his receding hairline, and also having no hangtime.
The jokes about THT's braids might be even funnier than the video above.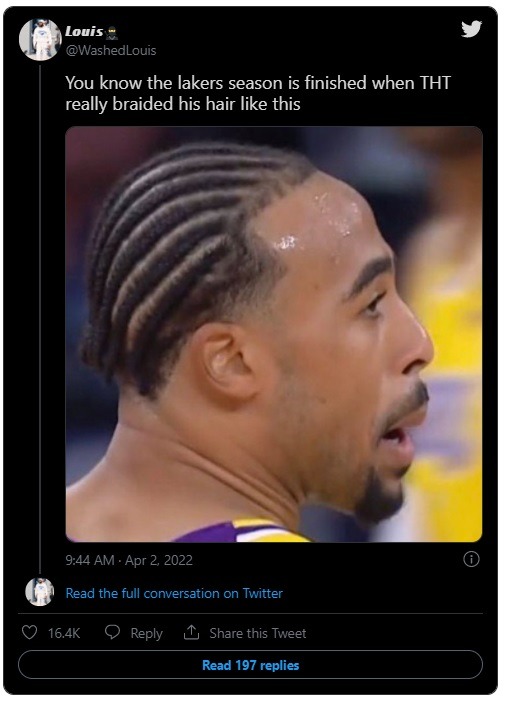 Lebron James caught heat for missing a must win Lakers game with a sore ankle. Many people were saying that Kobe Bryant would have never let a sore ankle keep him out of game that had playoff implications.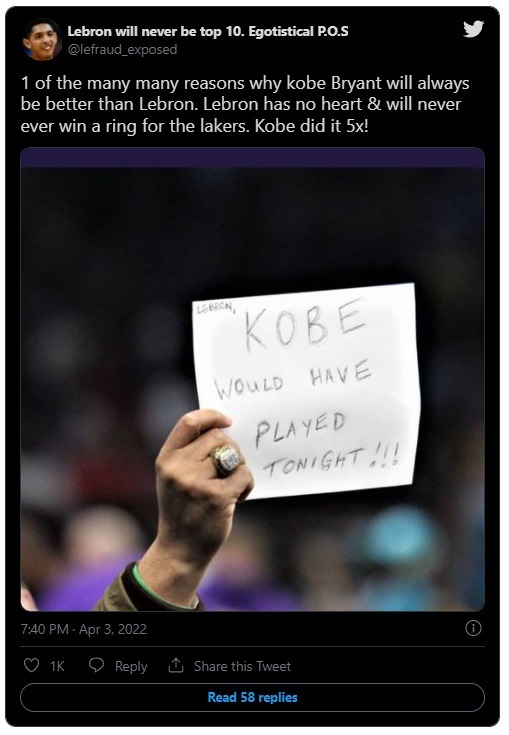 If there's a Lakers roast session going on then you know Trevor Ariza is going to catch a few strays. Translation of the tweet below: "Ariza on Lakers bench".