Did COVID Vaccine kill SarahBeth Hartlage? Some strange occurrences surrounding the death of the woman known as the "Queen of Vaccine" has people from all backgrounds searching for answers. SarahBeth was a well renowned doctor at the Louisville Metro Department of Public Health and Wellness, and was a major advocate for COVID-19 vaccines. Her very sudden and untimely death has left people wondering what happened after here social media account was wiped off the internet.
What was

SarahBeth Hartlage's Cause of Death?
How did SarahBeth Hartlage die? This is a question people are trying answer, because according to her obituary SarahBeth Hartlage died on March 16, but details about what led to her death have still unknown over two weeks later. In her obituary it stated that she has battling health issues over the past few years, but also says her death was "sudden" and "unexpected".
Her obituary gave no details on the type of health issues she was suffering from, or if they were related to her death. Here is exactly what the first paragraph SarahBeth Hartlage's obituary says:
Dr. Sarah Elizabeth Hill Hartlage passed from this life on March 16, 2022. While she had battled health issues over the last several years, her passing was sudden and unexpected.
This seems to convey that she didn't have any health issues that would cause her death under normal circumstances, but that paragraph can be interpreted in so many different ways depending how the reader perceives it. It's a vague statement, which is why the conspiracy theories started.
Kentucky Governor Andy Beshear reacted Dr. SarahBeth Hartlage's death with a heartfelt message about her impact in their community.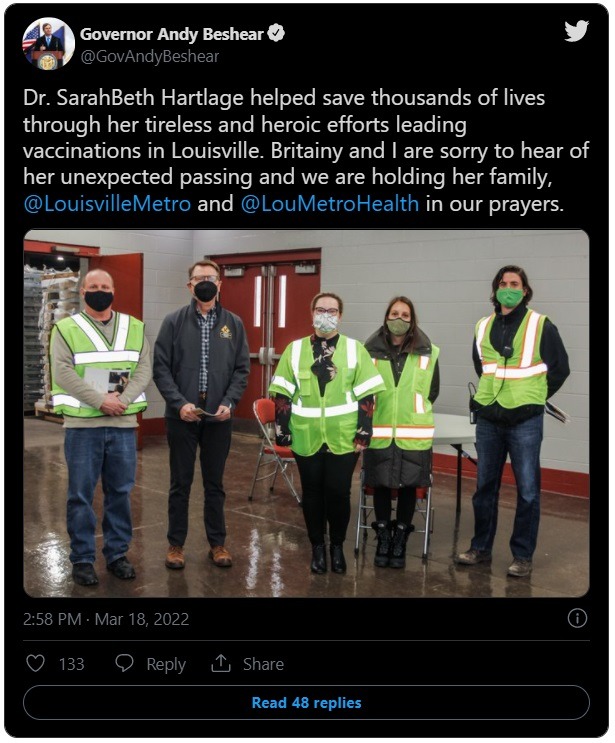 Why Was Dr.

SarahBeth Hartlage's Twitter Account Deleted? Details Behind the Conspiracy Theory that COVID-19 Vaccine Killed SarahBeth Hartlage

aka 'Queen of Vaccine'
Considering that SarahBeth Hartlage was known as the "Queen of Vaccine", because she was one of the most well known advocates of vaccinations during the pandemic, conspiracy theorists immediately began to think that COVID vaccine's had something to do with her death.
At first people were focusing on the facts that her death was described as "sudden", and there was no official information about what led to her death.
However, things got really strange recently when SarahBeth Hartlage's Twitter account was deleted for an unknown reason. IF you try going to her @SBHartlageMD twitter page the message "This account doesn't exist" shows up as you can see in the photo below. Conspiracy Theorists are convinced her twitter account was deleted as part of a cover to hide that a COVID-19 vaccine side effect killed SarahBeth Hartlage.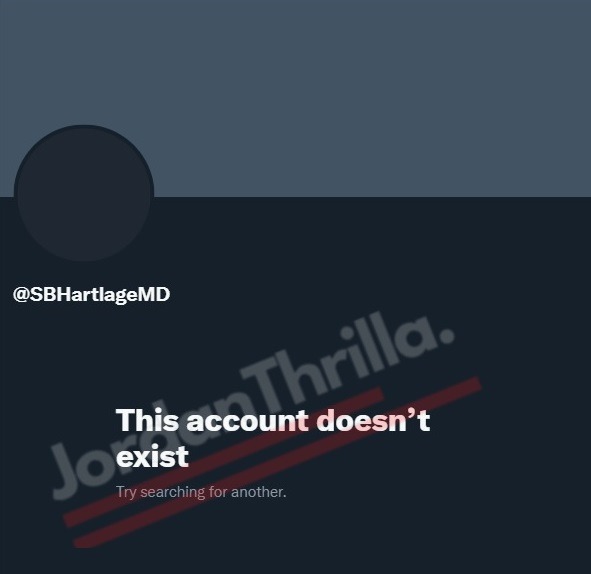 If SarahBeth Hartlage died from a COVID vaccine side effect it would be ironically tragic, because she devoted the final years of her life to making sure people in Louisville were getting vaccinated. Her passion towards COVID vaccinations is what led to her being donned with the nickname "Queen of Vaccine" on social media, and gaining recognition around the nation.
Considering SarahBeth Hartlage's twitter account was deleted the world may never truly know if the Queen of Vaccine died from a COVID vaccine side effect.
Whatever the real story behind her death may be, the fact still remains that the world lost one of the most caring women and doctors that ever lived. SarahBeth truly cared about her community. She was only 36 years old at the time of her death.