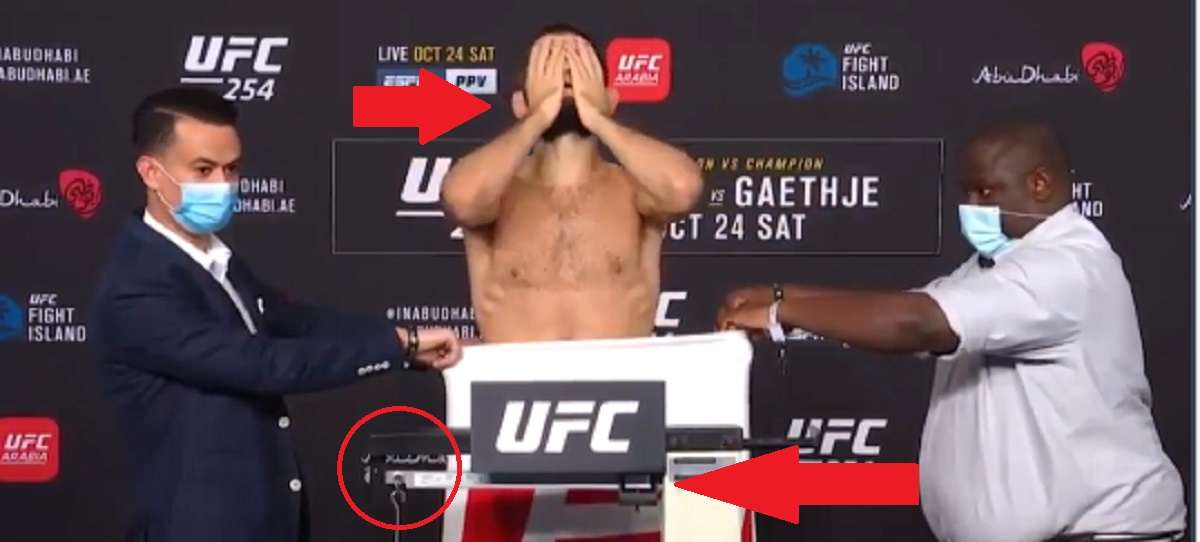 There is a growing number of people who believe Khabib Nurmagomedov didn't make weight for UFC 254. Khabib Nurmagomedov was exposed for cheating the scale during weigh ins for UFC 254. We will go into detail and describe the key intricacies that are fueling the Cheating Scale Khabib Nurmagomedov Conspiracy Theory.
In this first video clip pay attention to how the person operating the scale never gave it a chance to "settle". That would be an easy to make it appear Khabib made weight, when he actually didn't.
Now compare the video above with a weigh from earlier of another UFC 254 Fighter, and you can see how they allow the scale to settle to get an accurate weight.
Lastly take a look at the difference between the UFC employee who possibly cheated the scale for Khabib during UFC 254 weigh ins, and a commission employee operating the scale for Khabib at a previous event. Again notice how the commission makes sure to let the scale "settle".

Was it a coincidence that an UFC employee operated the scale for Khabib at UFC 254 weigh ins? Wee all know Dana White couldn't stand the thought of having an event without the main show Khabib again. Also judging from his reaction Khabib seemed shocked he actually made weight.
It definitely seems like Khabib Nurmagomedov cheated the scale to make weigh ins by not allowing it to settle. However, since it will probably never be proven it remains the Cheating Scale Khabib Nurmagomedov Conspiracy Theory.
Author: JordanThrilla