Tekashi 6IX9INE was caught lacking in Santa Monica, and the footage is going viral. LA Goons chased Tekashi 6IX9INE out of Santa Monica California, leading to his SUV speeding away frantically. People where heard screaming and cursing saying "Tekashi running". Earlier in the day Tekashi 6IX9INE posted videos saying he was out in Los Angeles enjoying the day in sandals.
It appears Los Angeles goons had enough and chased Tekashi69 out of Santa Monica. Take a look at how it went down.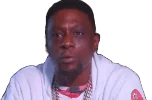 The Instagram post raises the question if Tekashi69 is worried about his safety. It seems that question has already been answered based on the sheer amount of security Tekashi 6IX9INE has hired.
What makes this situation particularly frightening is that Tekashi69 seems to keep taunting his enemies to remain popular. In doing so he also is provoking some of his enemies, which can lead to situations like Tekashi getting chased out Santa Monica. He was just kicked out a restaurant in New York about a week ago.
Author: JordanThrilla