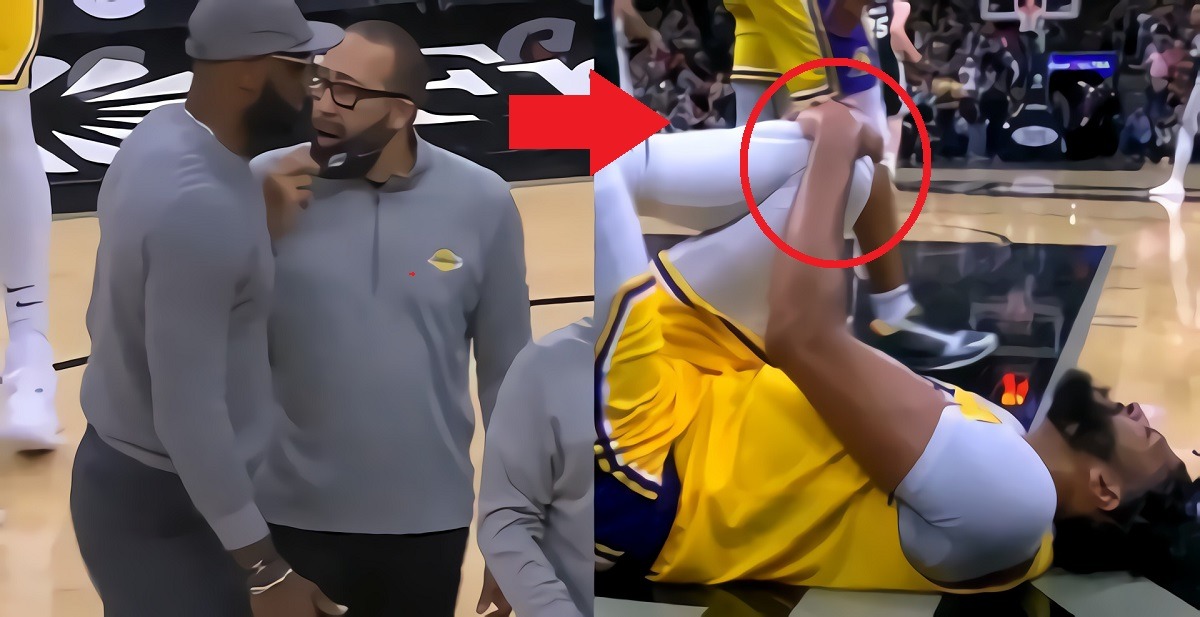 Last season Charles Barkley went viral when he called Anthony Davis "street clothes". It was a nickname bestowed upon him, because of his history of injuries. Unfortunately for the Lakers a scary moment during their 4th game of the season continued the trend of untimely Anthony Davis injuries.
Did Anthony Davis Tear his ACL during Lakers vs Spurs?
Late in the fourth quarter Lakers were on a run coming back from down 10 points in a successful effort to secure the lead over Spurs. When the game was tied things were getting really physical under the basket. During a battle for rebounds, Anthony Davis injured his knee non-contact while jumping. After the play he was seen on the ground writhing in pain.
Lebron James reacted to Anthony Davis' knee injury by yelling at the referees for the lack of foul calls under the basket. He was then seen walking frantically towards his fallen comrade.
On the slow motion replay it would show Anthony Davis' leg made a strange whipping motion that torqued his knee in an unnatural angle. It looked almost certain that Anthony Davis tore his ACL, but things took a turn for the better when he was able to walk under his own power, and stay in the game. Things took a turn for the worse when Anthony Davis collapsed to ground holding his knee again, then needed to be helped to his feet.
Anthony Davis probably didn't tear his ACL since he was walking on his own power, but in rare cases such as Rajon Rondo and Kawhi Leonard, you can still walk and run with a torn ACL, before fully realizing the extent of the injury.
Although this was Spurs home game, the Lakers faithful seemed to vastly outnumber the San Antonio fans that were there. As such the arena fell almost silent when AD went down on the baseline.
Anthony Davis finished the game with 35 points, and 17 rebounds. Lebron James didn't play due to a lingering ankle issue, which is another storyline that's a bit worrying. Russell Westbrook had his best effort in the purple and gold, scoring 33 points along with 10 rebounds and 8 assists.
Hopefully Anthony Davis' knee injury isn't anything serious.
Author: JordanThrilla Staff