We are finally less than two months away from NBA 2k23, which will hopefully save true ballers from the three point spamming disaster that was NBA 2k22. Of the plethora of flaws that was in the current release, two of the biggest gripes was the shot meter and left right zig-zag dribble spamming that YouTubers made famous. Somehow 2K managed to make the NBA 2k22 shot meter even worse than the one in 2K21. Also there was no way to customize it to your liking, but that all changed in the newest release, or so it seems.
Video Showing Every Shot Meter in NBA 2k23 Goes Viral
In NBA 2k23 there will be five shot meters you can choose from right from the jump, and 15 more that will become available through seasons. Each shot meter has a different width, height, size, shape, or location that should be enough to satisfy the appetite of most gamers. The great thing here is in general it seems like 2k23 shot meters are identical to how they were in 2k20, which had the best shot meter system to date.
Take a look at the viral footage showing NBA 2k23 shot meters.
Did NBA 2k23 Nerf Dribble Spamming? New Details and Video May Prove Dribble Spamming is Dead in NBA 2k23
Anyone who has played NBA 2k22 has probably noticed that you can spam dribble to your hearts delight without feeling the affect of fatigue. This leads to a glitchy looking unrealistic experience that coupled with spammy three point shooting led to one of the worst basketball experiences in NBA 2k history. Finally the developers at 2k Sports are doing something about it.
According to leaked details in NBA 2k23 you will have three boosts available for explosive launches. Once these three boosts are depleted the speed and acceleration of your character decreases drastically. In theory you can no longer zig-zag back and forth endlessly like spammers do in 2k22. The video below shows how fast spam dribbling depletes your stamina.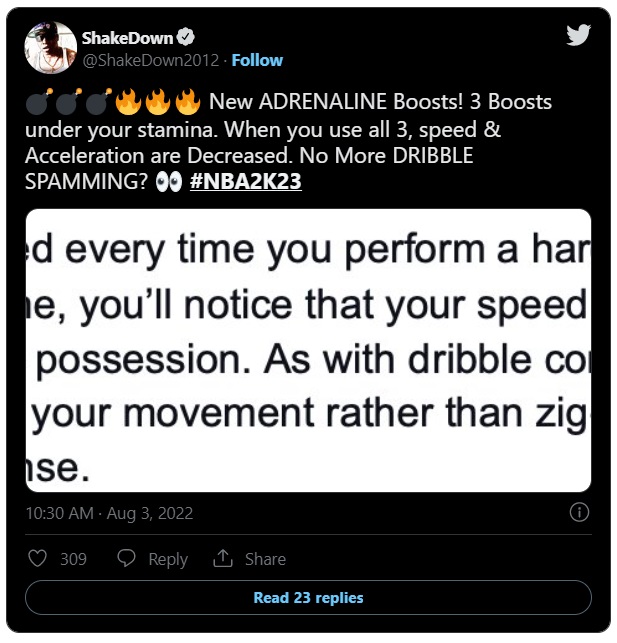 New Badges in NBA 2k23 Leaked
With all the new information about NBA 2k23 finally leaking, fans also got a peak at the new badges the game will have. Some of the current badges have been renamed, some of the weaker badges have been buffed, and as aforementioned there is a plethora of new badges you can choose from. For example there's a new "Challenger" badge, which increases the effectiveness of perimeter contests.
All in all the new details about NBA 2k23's shot meter, dribbling stamina system, and badges shows promise that it might deliver the realistic basketball experience most people loved about 2k20. NBA 2k22 felt like they were experimenting with make an arcade style unrealistic experience that catered to YouTubers who usually play a glitchy spam style of basketball that doesn't represent the real life sport, but hopefully 2K is finally leaving that experiment behind and going back to its roots of being an actual true basketball simulation.