The Detroit Pistons have been struggling in the NBA ever since they traded their former sensation Saddiq Bey to the Atlanta Hawks last season. A viral post on Twitter by reporter Andrew Schlecht showed that the Pistons have barely won any games since the trade, while the Hawks have been thriving (if you want to call it that) in comparison with Bey on their roster.
Saddiq Bey was a steal for the Pistons in the 2020 NBA draft, as he showed great potential as a shooter, scorer, and defender. He broke the Pistons' rookie record for most three-pointers made in a season, and earned several accolades for his performance. He was a fan favorite and a bright spot for the Pistons, who were rebuilding their team.
However, the Pistons shocked everyone by trading Bey to the Hawks as part of a four-team deal that also involved the Golden State Warriors and the Portland Trail Blazers. The Pistons received center James Wiseman from the Warriors, who then sent Bey to the Hawks in exchange for five second-round picks.
The trade was widely panned by the media and the fans, who felt that the Pistons gave up their future star for an unproven and injured player. Wiseman didn't even play much for the Pistons, who have been stuck at the bottom of the league.
On the other hand, Bey has been a key addition for the Hawks, who have been one of the most competitive teams in the Eastern Conference, despite their early playoff exits. He has improved his game in all aspects and has become a reliable contributor for the Hawks, as a high level third option on offense.
How Many Games Have Detroit Pistons Won Since Trading Saddiq Bey?
The perceived importance of presence on the Pistons is conveyed in a viral post on Twitter by reporter Andrew Schlecht, which revealed that Pistons have only won 4 games since trading Saddiq Bey at the trade deadline last season. Their win loss record since trading him is 4-33. That means in their last 37 games they have only managed to win 4 games without him.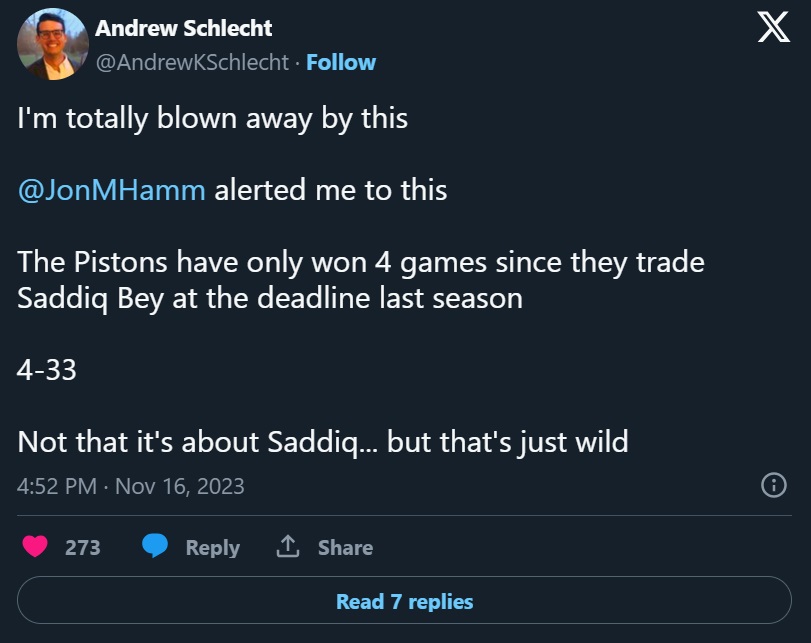 The huge gap between the Pistons' and the Hawks' results since the trade has sparked many jokes on social media, with some fans saying that Bey is the real MVP, and that the Pistons have no clue what they are doing.
The Pistons have missed the playoffs for years, and have not shown any signs of improvement or direction. They do have a potential superstar player in Cade Cunningham if he can stay healthy.