Is there a NBA referee scandal brewing in LA? LeBron James and his teammates have been at the center of a conspiracy theory that NBA referees are conspiring against the Lakers by intentionally missing foul calls against them. The theory has been gaining traction amongst NBA fans, who cite instances of missed calls as evidence such as Westbrook's arm being grabbed by Joel Embiid on the final play of their latest loss.
Lebron James Reacts to Conspiracy Theory NBA Referees are Conspiring Against Lakers By Intentionally Missing Foul Calls
LeBron James has responded to the conspiracy theory, taking to twitter to express his frustrations. In a tweet, he wrote, "And all year they keep telling me to my face on the court, I didn't see it or It wasn't a foul. It's not making sense to me seriously! Frustrating as hell man! Anyways keep going Squad!".
LeBron was responding to a fan who tweeted "This must be MUCH BIGGER STORY than it is. What NBA is basically doing, is 2 days in a row, altering their own definition of the rules, their own guidelines to tell the fans to believe them instead of our own eyes on Game Deciding Plays! How is this not a Huge Scandal?". LeBron's tweet has been interpreted as a sign of his frustration with the referees, and the conspiracy theory as a whole.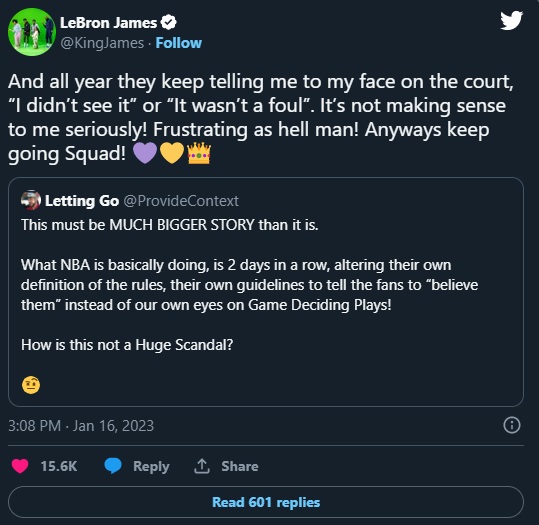 Strangely enough it appears after further review the referees are still claiming Joel Embiid didn't foul Russell Westbrook, despite the fact that he's quite literally grabbing his wrist.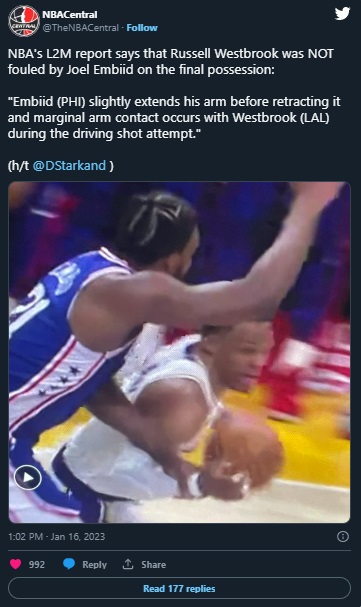 The conspiracy theory has been a cause of frustration for LeBron, and the Lakers all season long, yet the team remains on track for a championship run if you go solely based off their core talent. The referees seem to be making that path tougher with questionable officiating, but LeBron and the Lakers remain focused on their ultimate goal of a deep playoffs run.
Is there a NBA Referee scandal involving the Lakers? Whether or not the conspiracy theorists are correct, LeBron and the Lakers need to focus on not putting themselves in situations where the refs can decide the game.